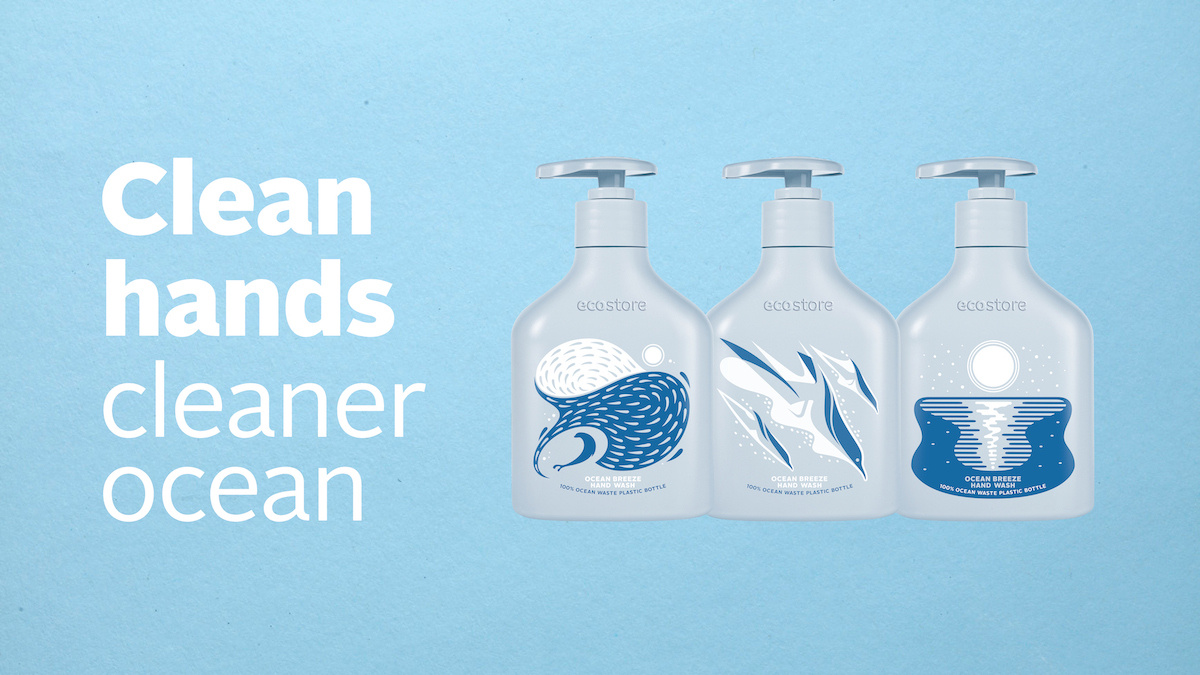 Turning the tide on Ocean Waste Plastic
Published on:
November 14 2019
"The ocean has always been a massive part of my life, and recently I've started to think a lot about how we're treating it. We're going to need to change for the next generation and pretty quickly." Blair Tuke
There was a lot of excitement this month at ecostore with the release of our new Limited Edition Hand Wash. But it's not just the fresh Ocean Breeze fragrance that's new. This first for Aotearoa has removed around half a tonne of waste plastic from the world's oceans and transformed them into 20,000 bottles made from Ocean Waste Plastic (OWP).
To make the bottles, we partnered with OWP supplier and global packaging manufacturer Pack Tech – to clean more than half a tonne of ocean waste plastic from the Java Sea in Bali and a river in Jakarta in Indonesia. Using OWP not only cleans our oceans of plastic, it also reduces the total amount of plastic needed for packaging, creating a circular supply chain. And it benefits local fishing communities, who get paid for what they collect, while they remove plastic from their fishing areas.
The ocean is Olympic gold medal winners – and ecostore ambassadors – Peter Burling and Blair Tuke's office, and when the sailors aren't training or competing, they're fighting to protect the ocean for future generations.
Pete says, "Living my life on the ocean it's been sad to witness its deterioration over the years. It really hit home to me how serious it was on my first round the world ocean race, and the remote parts of the world that were affected. We need to keep the ocean the magical home and life force it is. Plastic is one of the issues affecting the health of the ocean." Blair agrees. "We need to look after our ocean, that's part of our DNA as New Zealanders. Marine plastic pollution is a massive issue and the reality is, most of it is unseen."
We are also collaborating with not-for-profit Sea Cleaners to raise awareness. Sea Cleaners Founder and 2017 Kiwibank Local Hero of the Year Hayden Smith believes, "Businesses need to step up and create positive change and reduce their impact. Ways to do this include collecting and reusing plastic, increasing the use of recycled plastic, and modifying product packaging designs. Some companies have already made progress on this front, and I admire ecostore's refill stations in supermarkets as well as this initiative introducing bottles made from 100% OWP that's removed over half a tonne of plastic from our oceans."
With Hayden as our Captain, the Sea Cleaners boat took our own Jemma and Kat out to see how much waste plastic is polluting waterways closer to home – at the Otara Lake in the Tamaki Estuary. They were shocked to see the extent of the problem, as they picked up rubbish that had become caught in mangroves, from stormwater drains, blowing off the land, and flowing down the river.
Check out a video of our outing with Sea Cleaners and learn more about OWP.
Despite the big problems in our own backyard, Pete is hopeful about the future of our oceans. "If you talk to any Kiwi, the thing they say they're proud of is their environment, it's part of our national identity. So if we're talking about it, we should be doing something about it and everyone can play their part. I'm optimistic we can come together to solve this problem, but there's no time to waste."
So what can we do as Kiwis to help solve the massive problem of plastic pollution? Apart from reducing our plastic consumption by reducing, reusing, refilling and recycling, we can choose products that are part of the solution. Every OWP bottle is the equivalent of removing 3-4 plastic bags from the ocean. OWP also reduces CO2 emissions. Producing 1kg of OWP creates around 60% less CO2 than producing 1kg of new plastic.
We know that creating this limited edition is just one piece of the puzzle. As Blair says, "Every day we all make choices, both as businesses, and consumers, that can collectively make a big difference. It's great to see ecostore use ocean waste plastic in this product and raising awareness of the issue. I'd love to see more companies look for alternative solutions that are better for the environment in the long run."