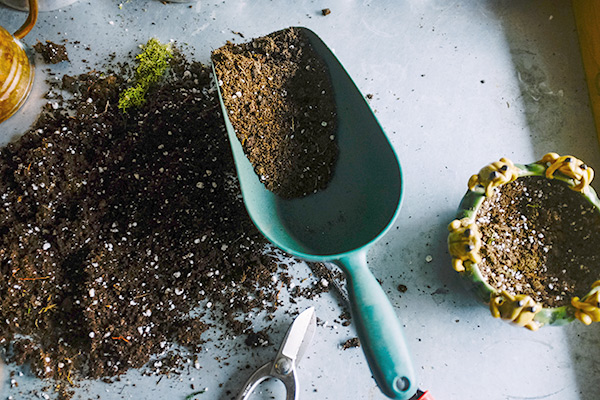 How to go zero waste in your garden
Published on:
April 02 2018
Having your own garden is a great way to contribute to a healthier planet, but there are a few things you can do to make it even better. And many of them centre around going zero waste. There are lots of ways to do this, so check out the ones we've put together to see what you can do in your own garden!
Water
Greywater
Waste water from sinks, showers, tubs and washing machines is classified as greywater and can be saved from going into the water treatment system and instead get filtered through your garden. Greywater is safe to use as long as it does not touch the edible parts of your plants. Do your research on how to set up a grey water system in your household.
Rain water
Rain water is another free resource you can take advantage of for the garden. There are a couple of options to consider here. You could dig swales into your garden where rain water will accumulate and slowly percolate into the soil. Or you could find barrels to collect the water and then redistribute it onto your garden.
Plants
Natives
Choosing the right plants is key to get your garden thriving. It's not all about looks! Native plants are acclimatised to our conditions so are often a good place to start.
Conditions
Make sure you consider your garden's conditions too. Weather patterns, climate, sun, soil and landscape are all important to think about. It may take some time to figure out which plants will work in which areas of your garden, but it will certainly be worth it! When plants have the right conditions to flourish they need little maintenance, and that means saving time and money in the long term.
Waste
Mulch
Use your garden waste to benefit your garden. Leaves and grass clippings can be collected and put on top of your soil to add nutrient value and to help the soil retain moisture by reducing the amount of evaporation.
Compost
Grass clippings, leaves and raw food waste can also be made into compost. Compost helps to maintain the health of your soil, which is key to healthy, delicious produce! There are a few different composting methods you can try, such as a bokashi bin (which makes compost by fermenting waste) or worm composting. Research which one will work best for you and your garden.
Pots
When you buy plants and seedlings from plant shops they can come with a lot of plastic which just gets thrown away after you plant them out in your garden. Seeds which come in paper packaging are a more environmentally friendly option. Egg cartons are a handy container to grow seeds until they are big enough to be planted in the garden, but any spare containers will do.
Another waste-free option to grow plants is through cuttings. Certain plants are able to grow from cuttings, so don't be shy about asking your friends and neighbours for cuttings!
Share
Tools
Some garden tools like pruning clippers are rarely used. Instead of buying new, strike a deal with your neighbours to see if you can borrow theirs. Or, if neither of you has the tools, see if they will share the cost of buying them.
Produce
Sometimes you will get an abundance of produce and as hard as you try cannot think of any more meal ideas for a certain crop. When this happens, share your excess produce with your friends and family. They will appreciate it and may even return the favour.
Get everyone involved
In the community spirit competitions are also a great way to get others into gardening and get friendly competition going. See who can grow the biggest and tastiest tomatoes, potatoes, beans and more!