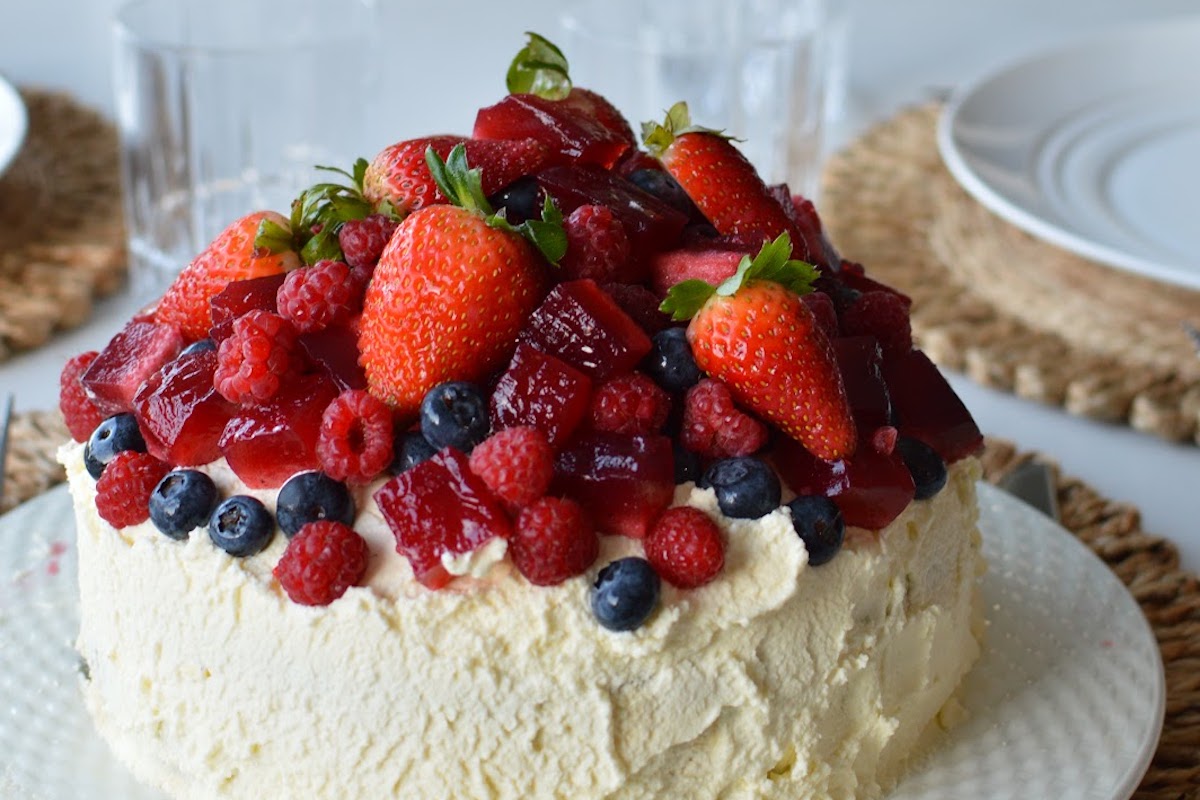 Gluten-Free Christmas Trifle Cake
Published on:
December 02 2020
This is a lovely, gluten-free trifle cake that will really impress your family this Christmas. Despite looking fancy, it's really very simple to make. It has all the flavours of a trifle, only it's a whole lot more nourishing. I generally make the cakes and jelly a day or two ahead and then assemble the trifle the day I'm serving it.
Ingredients
Cake
2 x 425 g can cannellini beans, drained and rinsed well
10 free-range or organic eggs, large (or 12 small eggs, see note below)
2 tbsp vanilla, powder, extract or essence
100 g butter, softened at room temperature
170 g rice malt syrup, honey or maple syrup (½ cup)
2 heaped tbsp rapadura or coconut sugar
80 g coconut flour (please weigh this, as it really needs to be exact)
½ tsp sea salt
1 tsp bicarbonate of soda
2 tsp baking powder (gluten free)
Jelly
500 ml boiling water
85 g rice malt syrup, honey or maple syrup (¼ cup)
200 g raspberries (2 cups) defrosted if frozen
3 tbsp grass-fed organic gelatine
Mango custard
2 mango/s, peeled and flesh pureed
1 tsp vanilla, powder, extract or essence
125 ml canned coconut milk (½ cup)
To serve
500 ml whipping cream
1 tsp vanilla extract
500 g mixed berries
To make the Trifle Cake
Preheat the oven to 170℃ (fan forced).
In a powerful blender or food processor, puree the rinsed beans, eggs, and vanilla until very smooth and set aside.
Without rinsing your food processor, mix together the butter, honey, rice malt or maple syrup and rapadura until very well combined.
Add back the pureed bean/egg mix and blend until well combined, scraping the sides.
Now add the coconut flour, sea salt, bicarbonate of soda and baking powder. Mix until just combined.
Note - the batter does have a slightly thick but airy consistency that is unusual if you've never worked with coconut flour before.
Divide the batter between two 21cm springform cake tins that have been greased well.
Bake for 30 minutes, or until lightly brown on top and springy to touch (like a regular cake). Insert a skewer into the middle of the cake, when it comes out clean, the cake is cooked.
Allow to cool fully on a wire rack.
Note
Don't scrimp on the eggs or let the batter sit for too long. Not enough eggs and delaying getting it in the oven will result in a much heavier batter and cake.
I usually like baked goodies straight out of the oven, but these are actually best eaten the next day, especially if you think you can taste the beans or egg. Store in the fridge if baking ahead.
Jelly
Combine the hot water and sweetener until it is dissolved.
Puree the raspberries and push through a sieve to remove the seeds.
Sprinkle the gelatine over the raspberry puree and mix until well combined.
Add the hot water/syrup mixture and stir well until the gelatine is dissolved. If it doesn't fully dissolve, heat over a very low heat (it should only be heated to lukewarm), stirring for a few minutes to fully dissolve.
Pour into a lined slice tray and refrigerate to set.
Mango custard
Blend the mango, vanilla, and coconut milk until smooth.
To assemble
Whip the cream and vanilla until firm peaks form.
Cut the jelly into 1-2cm cubes.
Cut the top off one of the cakes to form a flat base.
Place a 1cm layer of cream on the flat base and press half of the diced jelly and some of the berries into the cream layer.
Top with the second cake, and cover in whipped cream.
Decorate with the berries and remaining cubes of jelly.
Serve with the mango custard on the side
-----
Georgia Harding is a Naturopath (20+ yrs exp.) author, mother and passionate health educator. On her website 'Well Nourished' she shares fad-free health advice and intolerance/allergy friendly recipes to inspire people to live happy, healthy lives and create delicious food memories.
Georgia is committed to supporting the health of this generation and especially loves to help parents feed their children 'well'. She endeavours to simplify nutrition and make cooking nourishing meals achievable for everyone.