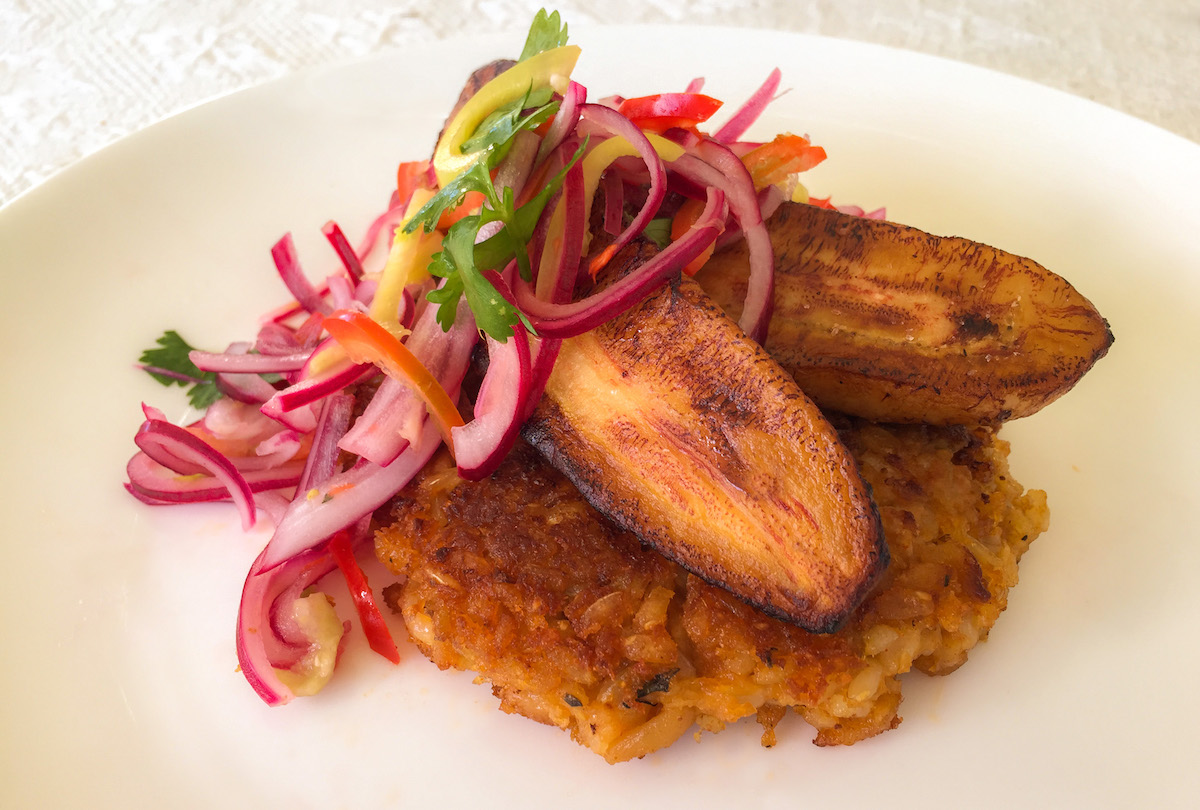 Tacu Tacu meets Misi Luki
Published on:
May 01 2019
When we think of bananas in New Zealand I'll venture a guess that most of us think that's saying enough: "a" banana. In Peru if you asked for that the first question in response would be "sure, but which type?". This recipe is inspired by that fact, and my real motivation here is to help spread the message that we have other types in NZ too, and they're utterly delicious! My favourite is a Samoan variety called "Misi Luki" which grows well in Northland.
It's a lot like some of the bananas I fell in love with in Peru on my travels there last year - with a sweet slightly lemon flavour, a firm texture and great keeping qualities (it's much harder to bruise). The standard "plain vanilla" global banana is a variety called Cavendish, it grows fast and seems cheap to us largely because it's often produced by workers who aren't being well looked after. Once I started to learn more about the reality of banana growing I became a fair-trade convert, and I'm happy to vote with my wallet about what I want to support. The Misi Luki's I bought for this recipe were $1 each and while at first that may seem a touch pricey, believe me the taste is worth every cent!
In Peru and South America in general there are many other banana varieties as well, another standout to me is plantain, a starchy cooking banana that's really great fried. It ends up like a more flavoursome french fry and on my travels I experimented with them quite a bit. They're occasionally available in NZ from shops selling Pacific Island produce like Taro, and my hope is that they become more available as people get to hear about them and ask for them.
This dish is based on a yummy meal I had at a vegan restaurant in Cusco (the main town of the Sacred Valley, and on the way to Machu Picchu). The base is a classic Peruvian recipe called Tacu Tacu, which apparently came about as a way to use up leftover rice and beans. They're cooked up together with simple spices and then fried, either loose in a pan or as fritters. I've topped mine with a fried Misi Luki, which can mainly be found at farmer's markets, especially in Northland.
The other topping is Salsa Criolla, which is a very popular side dish in Peru, made with red onions and hot chillies. The traditional form is super simple - red onions, a chilli called Aji Amarillo (literally "yellow chilli"), salt, lime juice and coriander. I've made it with white vinegar and lemon (since I didn't have any limes handy and I tried a version like this in Peru), and got creative when it came to the chillies. Mum has the Serrano variety in the garden and it's got a lovely bright heat. The hard-to-find-here Peruvian Aji Amarillo is very hot and also fruity, so I added a bit of mild sweet yellow pepper to give the salsa that sweetness. You can't see it in the photo but I also added a little bit of Feijoa for the same reason, and another great way to add that fruitiness is to use golden Kiwifruit.
At a pinch you could definitely make this with not-too-ripe "normal" bananas, but my request to you is this: ask shopkeepers and growers about other types of bananas, and if we all do this over time perhaps before too long we'll have a better selection here too. It's largely a matter of supply and demand after all, and once you get to know how amazing other bananas can be I'm pretty sure you'll be demanding them too!
Serves 4 / Ingredients
Tacu Tacu
2 Tablespoons olive oil
1 onion, very finely chopped
3 cloves garlic, finely chopped
2 teaspoons fresh oregano (or 1 tsp dried)
1 teaspoon paprika
1/2 teaspoon chilli powder (I used Kashmiri chilli)
1 teaspoon stock powder (I used Massel's vegan Chicken-style stock)
1/2 teaspoon salt
1x 440g tin cannellini beans (with their juice)
2 cups cooked brown rice
4 Tablespoons vegetable oil (I used rice bran)
4 Misi Luki bananas
Salsa Criolla
1 red onion, thinly sliced
1/4 cup white vinegar
1 Tablespoon lemon or orange juice
1 teaspoon salt
Fresh chilli to taste (whatever hot variety you have available)
1 Feijoa or Golden Kiwifruit, finely chopped
A small handful of coriander, chopped
Method
For the Tacu Tacu, start by gently cooking the onion and garlic in the olive oil for about 10 minutes, till soft and sweet. Add the oregano, paprika chilli, stock powder, salt and beans and cook another 10 minutes till all the liquid is absorbed. Put one cup of the cooked brown rice and half a cup of the bean mix into a food processor and whizz till it forms a sticky clump. Add with remaining cooked rice to the bean mixture and stir well to combine, then form into four thick patties. Heat the vegetable oil in a clean pan and gently fry the patties for about 5 minutes each side till golden and crunchy.
Slice the Misi Luki bananas in half lengthways and fry gently till golden (note: this happens faster the riper they are, you can use the bananas when still a little green for more of a plantain savoury character).
For the salsa, simply combine all ingredients in a small bowl and leave to pickle for 5 minutes so the onions loose any harshness and the flavours combine.
Serve the fried banana on top of the Tacu Tacu fritter and add salsa to taste, spooning a little of the liquid over to add juiceness to the dish.
If you're adventurous, keen to travel, keen to explore new aspects of food, and would like to experience plant medicine safely in a beautiful location then I'd love you to join me in Peru in Sept 2019, full details here: http://www.aaronbrunet.co.nz/the-flavour-of-life
-----
Aaron Brunet won Masterchef NZ in 2013 and now writes, cooks and spreads the word about loving food that loves us back. Visit his website, or follow him on instagram to find out more about a plant-powered lifestyle.