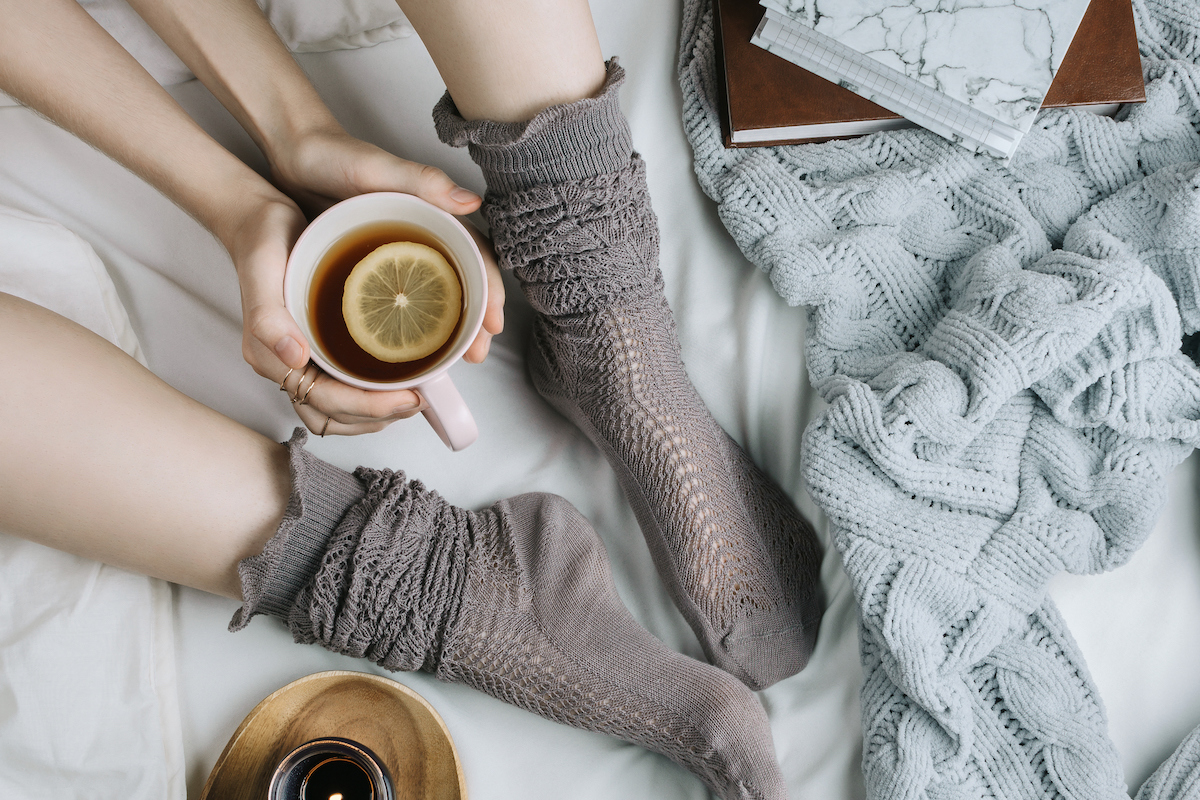 Practicing Hygge: The Cosy Antidote To Winter
Published on:
September 10 2019
My mum immigrated to New Zealand more than a decade before I was born, but even now, I'd say she still hasn't fully adjusted to the cooler climate. So while I've never lived anywhere where it snows during winter, I grew up practicing hygge (pronounced hoo-ga) - the now ridiculously popular Danish concept of cosiness.
From what I understand, hygge doesn't really have a direct English translation – but it's something I guarantee you've felt before. I've never found a Pinterest trend that I was already well on top of before it peaked, but I can tell you, it feels great for my grandma-esque lifestyle to be validated.
Like many younger Aucklanders, I grew up in a poorly insulated, 1960s weatherboard house, which meant that winter nights included fluffy socks in front of the fireplace watching movies or reading my favourite book. Our entire neighbourhood was rich with greenery - which inevitably meant going without power every time the wind picked up and took out the lines. As a result, I'm no stranger to carrying out my entire evening routine by candlelight, which is the number one thing associated with hygge. Aside from attempting to turn on the light every time you enter a new room, there's still something inherently relaxing about it.
I'm now renting, and unfortunately our fireplace has been covered. While a heat pump isn't quite as enjoyable in terms of hygge-factor, it's definitely a lot easier to maintain. I spend the evening battling our cat for the prime heat spot on the couch, before she reluctantly compromises by sitting on my lap. I still prefer a giant blanket and a hot water bottle, but for those nights when you can see your breath in the lounge, I've decided it's wise to take advantage of it.
Having a cat, an external heat source and a blanket are key parts of creating hygge for me, but clothing is the next most important ingredient in my hygge ritual. I have a collection of grey sweats that I combine for my favourite winter look, which I affectionately refer to as 'baby elephant'. There's something extra cosy about grey – and after years of informal research working in retail, I am confident that sentiment is almost universal. I think there are even some bonus points for authenticity if you pair your outfit with thick grey socks too. All of these sweats are two sizes too big for me - too small for my boyfriend to pinch, but big enough for ultimate comfort – even after dessert.
Speaking of dessert, there are some must-haves in my pantry for maximum winter cosiness. Despite my daily coffee dependence, I'm actually really sensitive to caffeine, so it's essential that my night time routine includes actively avoiding it. Caffeine has a 12-hour half-life. This basically means that 12 hours after consumption, half the caffeine you ingested is still running around your body causing chaos. My go-to caffeine free choices are peppermint, chamomile or rooibos herbal teas. If I'm feeling more indulgent, I'll go for a hot chocolate, my (organic and fair trade) favourites are by Trade Aid and Kokako – or if you're looking for one without any added sugar, you can't go past Avalanche, which is available at your local supermarket.
I've also found that you don't have to reserve this feeling for home – you can recreate it anywhere you go. When I started my new job, I created physical, as well as mental space for warmth and nourishment. I have a drawer full of herbal teas, and keep a spare sweater draped over my chair. I op-shopped a couple of chunky knits, and I have a collection of hand-knitted scarves that keep me toasty, no matter the weather for my public transport commute. With my last tax refund, I made the commitment to invest in a waterproof jacket – an essential when wearing knits – nothing will put a literal damper on your day like a soggy sweater.
My basic understanding is that hygge is a feeling as much as it is a way of life. And different things make people feel different ways. So next time you feel it, take notice. It's all about finding joy in the small comforts, feeling good in a time of the year that sometimes leaves us feeling pretty flat. See if you can find ways to incorporate hygge into your week, wherever feels right, give yourself permission to indulge.
-----
Chanelle is a vegan, amateur athlete, social advocate, environmental enthusiast and blogger at mynameischanelle.com.