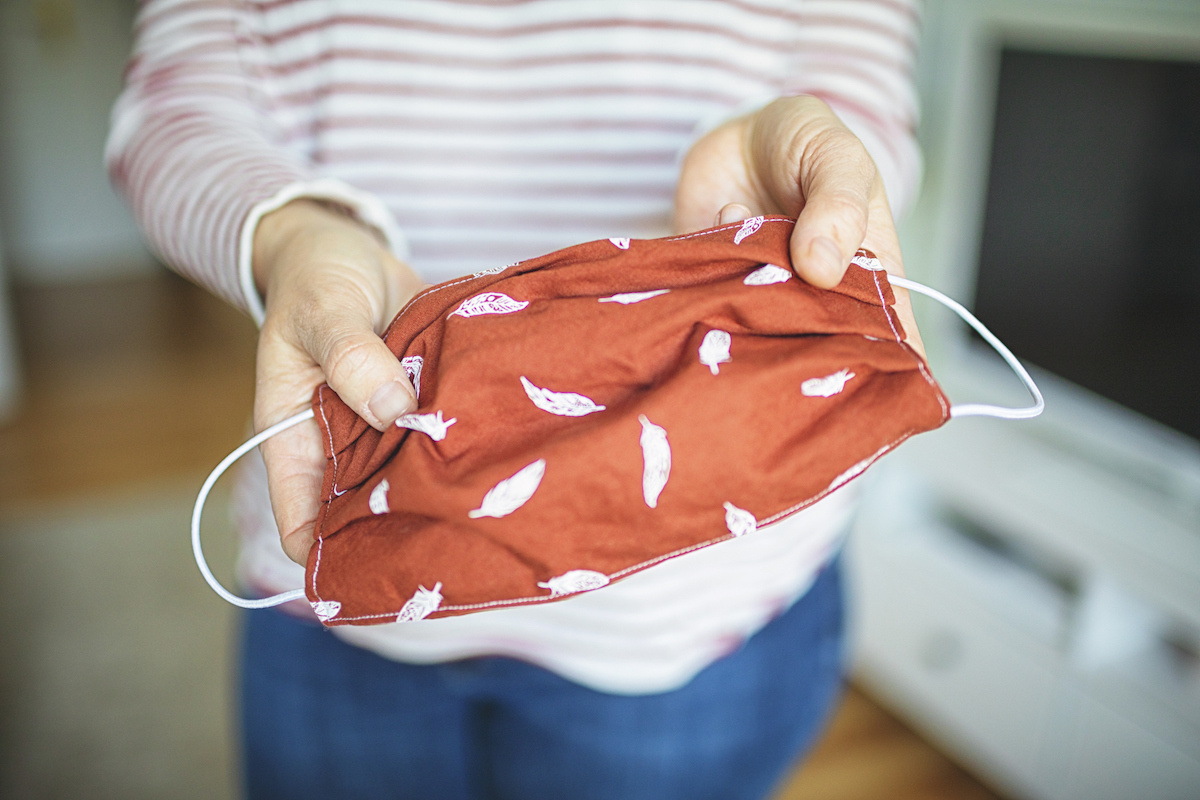 Keep calm and sew on
Published on:
September 01 2020
I have a secret (well now, I suppose it's had) – I can sew. When the government made the recommendation to wear face coverings in public, I got to work researching patterns, materials and techniques.
By the first weekend I had completed two prototypes and seven final products, for my small household and some of my fellow essential workers. As my partner inspected the finished masks, he exclaimed "I forget you can really sew". I didn't think much of it when I posted them on my Instagram story that Sunday night – but I woke up to my inbox being flooded with responses. One from a close friend said "how did I not know you could sew?"
To me, sewing is like riding a bike. It's something I learnt to do when I was young, so it's not something I see as particularly remarkable. I would've only been in primary school when my mum first taught me to sew on a button. I don't know why I've always hidden it, probably laziness – I clearly remember pretending not to know how to hand stitch to get out of doing it in technology class in intermediate. I carried on taking fashion design all through school, for what I saw as easy credits. It was in high school that I first started using a machine, and that's when I nearly gave up all together.
I'm not sure young teens should be using sewing machines, but we saw everything from sewn fingers to scratched eyeballs from flying needle fragments. Then you add in the tangled threads, jammed machines and sleeves sewn on upside down – it's a miracle I stuck with it at all. When I was 16 my parents got me my first sewing machine – and I began making a few garments. When I finished my final year of school, I never wanted to sew again. I left a half-finished dress balled up with the machine in the spare room for years.
Apparently, we've shifted from sourdough starters to sewing machines in our collective Google searches, and I'm not surprised – with all the reminders to embrace a slower life, it seems like the obvious next step after perfecting your banana bread. If sewing piques your interest, there are plenty of second-hand machines on TradeMe, and for most beginner projects you don't need anything too fancy. I've always used an entry-level machine and my pin cushion is an old sponge.
I found that the only thing that could reliably get me to sew was if it was to help someone else, whether it was fixing a zip on my niece's school bag or salvaging tights for a friend who came off their skateboard. While I still find no joy in creating garments from scratch, knowing how to sew has greatly increased the lifespan of my clothing and allowed me to alter some average thrifted pieces into wardrobe staples. No one does this better than Tauranga local @sloan.shop – who creates the most beautiful pieces from vintage fabrics and shares her upcycled second-hand finds.
I shout expletives when I've pinned the wrong sides together or a thread breaks, and I'm still not particularly confident at diagnosing the problem when my machine makes a questionable sound, but there is a really special feeling when you do the final touches on a piece. I hadn't seen my iron in two years, but now I beam with pride as I press each individual mask before sending them on their way with love.
If you're one of the many who have taken up sewing this lockdown, I have only a couple of pieces of advice:
Laughing and crying are both acceptable responses to mistakes.
Be patient. Like anything, it takes practice.
Get creative with what you have at home.
Watch your fingers and most importantly, remember to have fun.
-----
Chanelle is a vegan, amateur athlete, social advocate, environmental enthusiast and blogger at mynameischanelle.com.