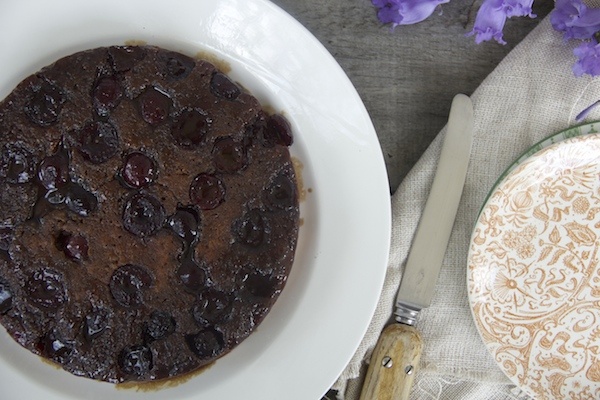 Zoe Salmen's delicious cherry upside down cake
Published on:
January 19 2015
Life is sublime when cherries are in season, especially after Christmas when they come down in price. This cake is based on my upside down feijoa cake, which quickly became famous when I shared it in the height of feijoa season last year. When turned upside down, the rich vanilla caramel seeps down the sides of the cake and drizzles underneath. If you are clever with your cherry placement (placing them in the tin, cut side down) you get little pools of caramel in the stone crevice - it's incredible! It isn't a huge cake and although it is fine to eat for several days, I recommend eating it while it's still warm from the oven, with a little cream or natural yogurt.
This cake is gluten free, refined sugar free, and the recipe has a substitute if you want to make it nut free.
Ingredients:
100g butter
1 cup coconut sugar or muscovado
2 tsp vanilla bean paste or quality vanilla extract
1 1/2 cups fresh cherries
1 large free range egg
1/4 cup coconut nectar or honey or pure maple syrup
1 cup gluten free flour
1/2 cup almond meal or equal part additional flour for nut free
1/2 cup full fat milk
1 tsp baking soda
Method:
Preheat oven to 170°C
Line a cake tin (approx. 24cm) with baking paper.
Firstly prepare the caramel topping. Take half (50g) of the butter and place in a small saucepan. Melt over a very low heat and add half (1/2 cup) of the coconut sugar and half (1 tsp) of the vanilla bean paste. Stir until the sugar has dissolved. Pour the runny caramel into the base of the cake tin.
Use a small paring knife to gently cut the cherries in half and pop the seed out.
Place the halved cherries in the base of the cake tin. For lack of patience, I scattered them in the base. But you could place them all the same way up and keep them in a little from the side so you get a clean edge.
Using a handheld electric mixer or processor, mix the remaining butter and coconut sugar. This is where you'd normally want a light and fluffy, creamy consistency, but in my experience coconut sugar doesn't quite reach the creamed stage - and that is fine. When well combined and creamy, add the egg, remaining vanilla bean paste and coconut nectar, beating to combine.
In a second bowl, sift flour and mix in almond meal.
In a third bowl, add milk and baking soda, mixing to combine.
Add approx. 1/3 of the flour mixture and 1/2 of the milk mixture to the creamed butter and sugar and mix to combine. Repeat. Then add the final 1/3 of flour mixture and mix to combine before pouring into the cake tin, covering the prepared cherries.
Place into the preheated oven and bake for approx. 40 minutes, or until a skewer comes out clean. Remove from the oven and allow cake to cool slightly in the tin.
Gently remove the side paper from the tin, place a plate over the bottom of the cake and gently turn the cake, removing the paper from the top.
Serve warm.
Makes approx. 24cm cake, to serve 6-8 slices.
For more wholesome recipes, visit Zoe's Little & Loved blog.
Do you have favourite summer recipes our readers might like? We'd love it if you'd leave them in a comment!