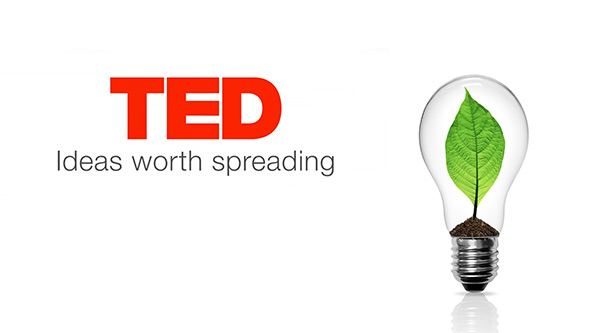 Our favourite TED talks on sustainable living
Published on:
September 21 2016
If you're not already familiar with TED, they're an organization dedicated to spreading ideas through short yet powerful presentations designed to share knowledge, ideas and a fresh point of view from visionary thinkers.
Next time you're sitting in traffic, on your lunch break or queuing at the supermarket, how about schooling up and getting some inspiring ideas, from a greener future to inspiring stories of eco conscious business practice?
We've put together our top 10 TED talks, where entrepreneurs, scientists and inventors talk about their innovation and ideas.
1. The route to a sustainable future: Alex Steffen
In this talk, planetary futurist Alex Steffen discusses the effect of the western consumer lifestyle on our planet and how we can build better cities by reducing our ecological footprint.
2. How to make a profit while making a difference: Audrey Choi
Audrey Choi is an investment expert who discusses how we can make a difference by investing in companies that prioritize sustainability and social values.
3. What is permaculture: Geoff Lawson
In this talk, permaculture educator and consultant Geoff Lawson explains permaculture as an ethical design system, which uses the knowledge of nature and the connectivity of the elements to create a system that nurtures itself, endlessly provides food and enriches the earth.
4. A new model for business: Malcolm Rands
Malcolm Rands is the co-founder of ecostore, New Zealand's leading range of eco-friendly household and personal care products. In this talk, Malcolm shares his ideas on funding a non for profit organization, and the power of believing in something wholeheartedly.
5. What's wrong with what we eat: Mark Bittman
In this talk, New York Times food writer Mark Bittman explores the mainstream western way of eating and why it's putting the planet at risk.
6. Let's go all in on selling sustainability: Steve Howard
IKEA's Chief Sustainability Officer, Steve Howard, talks about his quest to sell eco-friendly materials and practices, and discusses how considering sustainability is now a must-do.
7. Ubers plan to get more people into fewer cars: Travis Kalanik
An insight into ubers carpooling service, uberPOOL, which in its first eight months took 7.9 million miles off the roads and 1,400 metric tonnes of carbon dioxide out of the air in Los Angeles.
8. Tiny home, big life - an experiment in simple living: Erin & Dondi Harner
We're often led to believe that more material possessions will make us happy, but in this talk, we learn how a young couple disenchanted with this notion built and lived in an off grid home and discovered that less is more.
9. We need to think differently about sustainability: Leyla Acaroglu
Lela is a sustainability strategist and the director of Eco Innovators, who use sustainability as a catalyst for innovative thinking and creating change. In this talk, she focusses on our capacity to solve some of the biggest environmental issues we currently face.
10. Dive into an ocean photographer's world: Thomas Peschak
In this talk, conservation photographer Thomas Peschak shares some of his work giving an insight into some of the oceans hidden eco systems. Here he also discusses his dream for a future of respectful coexistence with the ocean and marine life.