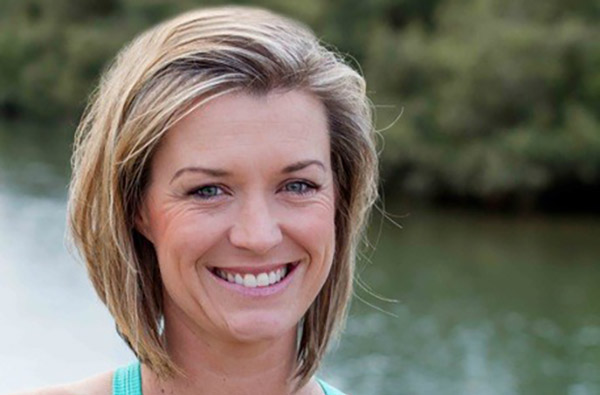 Melissa Carroll's tips for everyday wellness
Published on:
April 01 2015
Wellness Retreats NZ founder Melissa Carroll has learned plenty during her recovery from chronic fatigue, and that journey has led to a business that arms others for a healthier lifestyle. She shared her story with us, along with plenty of advice about how to stay well each day.
You experienced serious illness - what was happening in your life at the time?
Ten years ago I was bed-bound with chronic fatigue. I'd recently moved back to New Zealand from my OE. I was working for Top Shop and Top Man on Oxford Street in the heart of London, in graphic design. I loved the travel and freedom and the people I met, but I had to come home because my visa expired. I'd never really been a big fan of living in Auckland so I headed to Queenstown. I got a job in design there, but that's when things went pear shaped - I just completely crashed. It was almost like losing that vision. I went to school and university, got a job and went on to travel and then I came home. I'd always wanted to get into the wellness industry and study homeopathy and nutrition, but I just didn't know which avenue to take.
I guess taking myself out of the workforce and going back to being a student would have been a big commitment and I just kept putting that on the back burner, so I came back and got into what I knew, which was graphic design. Looking back it was totally my body just telling me I was on the wrong path. Back then I knew going through chronic fatigue and adrenal fatigue was part of my journey and was happening for a reason - and that a change was needed.
How did you take steps towards being well again?
The medical profession's answer was anti-depressants, which I wasn't interested in. I've always been open to natural health medicine because my parents grew up with homeopathy and they've always been very open and into health and eating well and keeping fit. I turned to natural health and self healing, reading and research. I had to leave my job and go on the sickness benefit. There was more money going out than coming in so I had to just put my life on hold and focus on staying present and nurturing myself and nourishing myself. I gradually got better and was able to go back to part time work, nannying for a family down there, and regained my strength. If only I knew then what I know now, I would have healed myself a lot quicker. I dabbled in a bit of yoga then but not to the extent I do now.
Since then I've had some pretty major chapter changes in my life. When I came back to Auckland I worked for a large advertising agency and got back into design, where I didn't really want to be, but a friend worked in the company. Then the opportunity came up to be the EA and event organiser so I stepped into that. When the recession hit I still had a desire to go overseas, so I went to France to work on superyachts. It was a great way to travel around the south of France and Europe.
But I still had that urge around health and wellness and I had the opportunity to go to Bali to manage a surf and yoga retreat - Escape Haven (then called Surf Haven). I'd never been to Bali before but I absolutely fell in love with it. It was fantastic for my health. I loved the heat and the energy from the place and it's so easy to eat well. Teaching at this retreat really opened my eyes and confirmed that it's this industry that I had finally found my passion for. I did yoga with the guests most days and that inspired me to my yoga teacher training. When we were based in Spain for a year I completed my Vinyasa Flow training during a month off.
How did you get the idea to set up Wellness Retreats and what's it all about?
At Christmas last year I moved home and I thought right, I have had so much freedom doing yachting and in Bali that I don't want to work for someone else. I applied for a few jobs but at the time they weren't looking for anyone and I had this idea of retreats and bringing together the practitioners that had helped me over the years. It all just happened organically. Kathleen Wills has been my doctor for many years and there's Erin O'Hara from Golden Yogi - I've found kundalini really energising for my health.
I've also had a lot of coaching with Louise Thompson many years ago and I now teach yoga for Louise at her business Positive Balance. I want to share my story and educate and help people through gathering together the key people that have helped me.
90% of my guests have never done yoga before, which really fascinates me considering I open with yoga and close with yoga. The retreats are educational days. I touch on my story and how that's evolved into the retreat days. People walk away with a toolbox to implement into their lifestyle. They get the recipes for the food they get on the day, like raw cake baking and vegetarian wholefood lunches. And there are products for sale on the day so they can start making the smoothies.
You get those little lightbulb moments during the day, with key points speakers make that people can bring into their daily routine. There are different themes. I have a core group of speakers and then the others change. It's like people's mini warrant of fitness each month - it's about taking a day out for yourself and taking off all those hats of being a mum or sister, employee or boss and all those things we do on a daily basis and tuning in to yourself, turning off your phone and taking off your watch.
Are more natural, eco-products part of a well lifestyle for you?
The sponsors that came on board with Wellness Retreats, like Ecostore, Ceres Organics and Nuzest, are all eco-friendly, natural and sustainable product makers. I use the products and back them 100%. I've always thought, you are what you eat. All the products I use are toxic free, as ecostore's are. I always use natural skincare, deodorant, toothpaste. That's just what I've always known.
Do you think our ever busier lifestyles have prompted a growing need for wellness?
One of my speakers last October asked how many people check their phone as soon as they wake up and the amount of hands that went up was unbelievable. When we didn't have smartphones we wouldn't check our email until we got to the office and we'd enjoy our drive to work. People are just constantly on their phone now and at the lights quickly checking Facebook. It's just being mindful and setting boundaries for yourself. I'm a one person band and I have meetings and emails, but I know my limitations with what I've been through with my health, whereas some people just keep pushing.
What do you do to build wellness into your daily routine?
I make sure Sundays are my no email, no phone day. And after 7 at night I've made a rule not to check my email, because I was finding my brain was starting to fire up again and I couldn't get to sleep. It's easy to just keep working, especially when you work for yourself you have to set that routine. I've got to make sure I'm giving a lot but filling my tank as well.
Sleep is also important - I do need my eight hours and it's setting those boundaries. I think being in touch with nature is important. I can tell when I've been working at the laptop too long and I just need to get out and be near the ocean and just feel what's going on, taking a beach walk and getting that sand between my toes.
It's just tuning out. And it's also gifting yourself - it's maybe not something massive every month, maybe it's just an aromatherapy bath or taking yourself to a restorative class or cooking a beautiful, nutritious meal. For people with kids it's taking time out to be with your children, taking them to the park or the beach.
Check out the Wellness Retreats NZ website to find out about upcoming retreats.