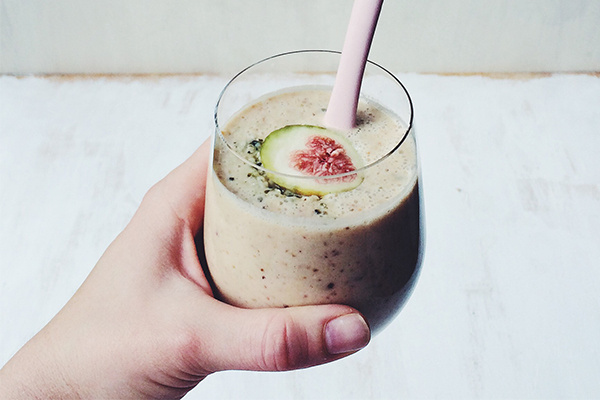 Martyna Angell's smoothie ideas for kids
Published on:
December 01 2016
Martyna Angell is a qualified health coach, blogger and cookbook author. She has developed recipes for brands such as I Quit Sugar, is a regular wholefood columnist for Nourish magazine and is the creator of the Wholesome Cook, filled with delicious recipes for healthy living.
Smoothies are a great option for getting a whole lot nourishment in one go, including vegetables, fruit, nuts, seeds and other wholefoods. They're also great for adding in your least favourite varieties while still tasting delicious. Here's 7 nutritious food groups to easily hide in smoothies - great for kids and fussy eaters!
Greens:
Many kids and grown-ups alike are not too keen on avocado, spinach and other greens, but they hide really well in chocolate smoothies - simply add a dollop of low sugar chocolate nut spread or some cacao or cocoa powder. Avocado especially helps green smoothie concoctions stay velvety smooth. You can peel and freeze avocado for easy access and a nutritional boost. Kale can be frozen as well. Frozen peas (yes) can add a good dose of protein to sweeter smoothies.
Seeds:
Sesame seeds, flax (great for digestive health), hemp, sunflower and pumpkin seeds. Chia seeds are great, too!
Other veggies:
Carrot, pumpkin and sweet potatoes - all of which are great for eye health - just make sure you have them with a little fat because lutein, vitamin E and zeaxanthin are best absorbed in the presence of fats, beetroot and fennel are great too!
Eggs:
You can add raw eggs into your smoothies for a protein and vitamin boost.
Fats:
In the form of coconut oil, coconut flesh, sweet almond oil, nut milks and nuts (avocado is great, too).
Yoghurt:
Yup, for those of you who can't stomach the thought of yoghurt on its own, smoothie is the perfect solution. I talk about doing this and its benefits more in The Wholesome Cook book. Use unsweetened varieties and add your favourite fruit instead.
Grains:
Low sugar cereal, muesli and oats, as well as rice protein (found in the form of powders) can be added to smoothies to boost their nutritional value and overall energy. Soak or cook oats and use hot or chill overnight. Leftovers can even be frozen into an ice cube tray.
Check out Marytna's Smoothie e-book http://wholesome-cook.com/shop/ for 40 more healthy and delicious ideas.