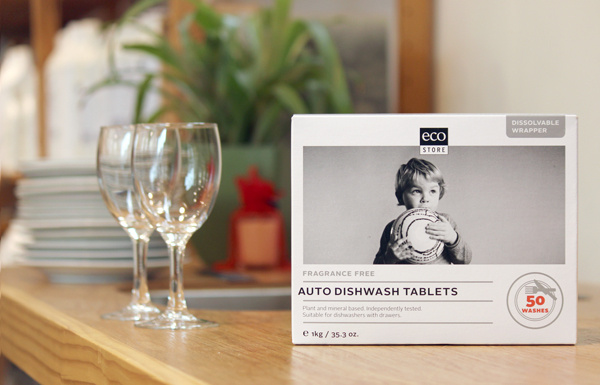 How much does it really cost to clean your dishes with ecostore
Published on:
December 04 2014
New Zealand consumer advocacy group, Consumer recently put eight Auto Dishwasher Tablets to the test to find out which brands offered better performance and value. The test test plates were treated with egg yolk, rice starch, baked on cheese, red wine, coffee and minced meat. Each detergent was put through 4 test loads - and they then used a machine called a spectrophotometer to measure light reflected from each test plate.
We were very pleased to see ecostore tablets doing so well against the big brands, especially when our tablets not only have to do a great job at a great price, they also have to meet our own strict criteria for health and environmental safety without leaving nasty chemical residues on your dishes.
Our all-in-one dish tablets with built-in rinse aid, are free of nitrates and phosphates and are suitable for septic tanks. They have been approved by the European Union Ecolabel (License no: Dk/15/1) for reducing environmental impact through the product's life-cycle, from raw material extraction to production, distribution and disposal.
The plant and mineral based ingredients in our dishwash tabs provide powerful stain removal, while preventing spots, streaking and build up of limescale in your dishwasher.
Our no-mess tablets are individually wrapped in a biodegradable wrapper that dissolves in your machine, so there's no need to touch the tablet.
Suitable for all dishwashing machines including dish drawers.
Following the success of our pack 30 Auto Dish Tablets, we have introduced a larger pack with 50 washes - which means we can now offer even better value at a lower cost per wash, all while reducing packaging and improving our eco footprint.
Dishwashers are very convenient, time-saving devices, but there are still some things you should never put in them - here's a handy list of 10 things you should never put in your dishwasher.