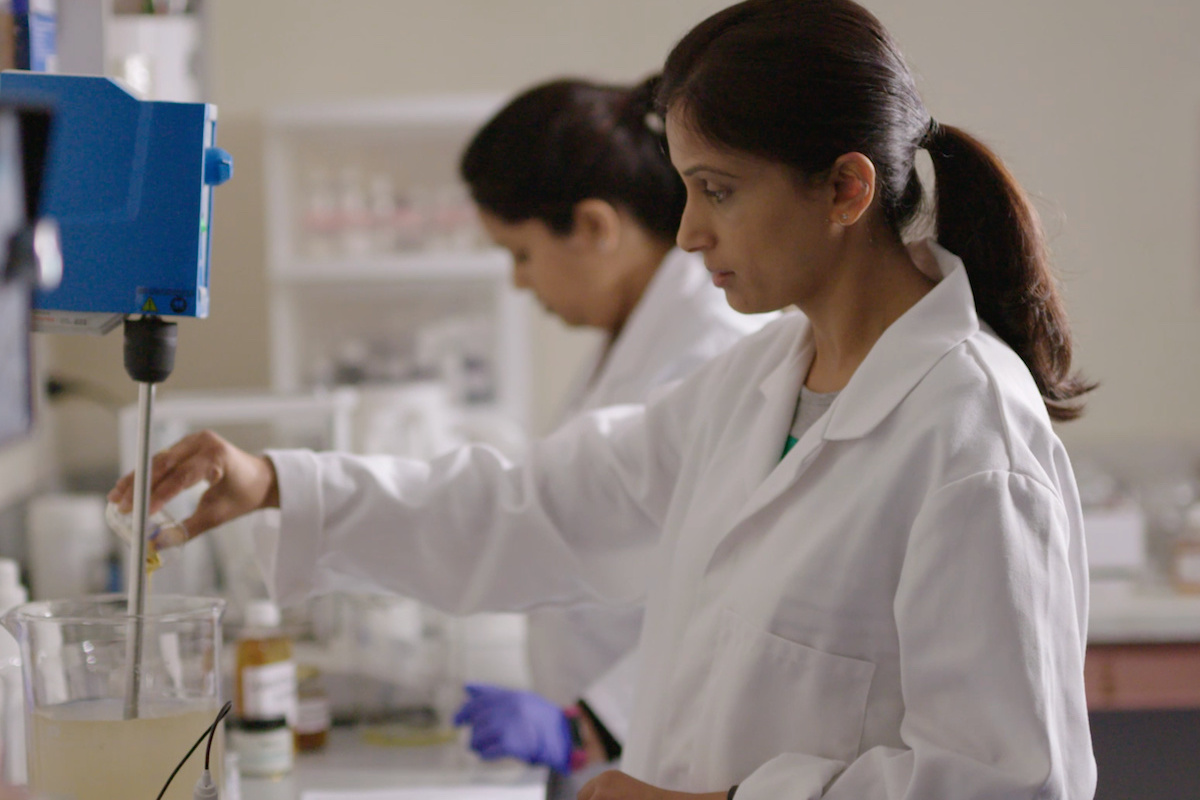 Celebrating women in STEM for #IWD2020
Published on:
March 06 2020
Sunday 8th March is International Women's Day 2020 – a global day celebrating the achievements of women, and a call to action for accelerating gender equality. At ecostore, we're celebrating New Zealand women in STEM (Science, Technology, Engineering and Maths) and highlighting how we can all help more women to create, invent and discover a better tomorrow.
The first International Women's Day gathering happened in 1911. We've had some incredible Kiwi women shatter the STEM glass ceiling since then. But we still have a long way to go. Today women make up 48% of NZ's paid workforce. But STEM is definitely one area where we can improve. These jobs have been traditionally seen as men's work.
We definitely couldn't do what we do without the incredible STEM women in our ecostore team. Our Technical Manager Heena (pictured), and Sherry our Development Chemist develop our formulations. Vivian, Divya and Irish work in our Quality Control team making sure all our formulations meet our high quality and environmental standards.
The world needs diverse thinking among innovators to come up with solutions to our most challenging global problems. So having more women in STEM jobs is better for everyone. Studying and working in STEM fields not only creates opportunities to make a positive difference, but leads to job security too, as medicine, computer technology, engineering and science are highly sought after skills in New Zealand.
Five amazing Kiwi women in STEM
Dr Delwyn Moller: While at NASA, Dr Moller provided critical climate change data as Director of Research at the Centre for Space Science Technology.
Dr Vickie Shim: Dr Shim is leading a potentially life-saving project at the Auckland Bioengineering Institute to develop an app that diagnoses the severity of brain injuries through eye movements.
Lovina McMurchy: Armed with a Master's degree in Mathematics and Statistics, McMurchy has led huge, business-changing tech projects for Starbucks, Microsoft and Amazon in the US.
Dr Ocean Ripeka Mercier: The first Māori woman to gain a PhD in physics is raising awareness of the importance of science and mātauranga Māori. In 2019 she was awarded the Callaghan Medal from Royal Society Te Apārangi for her work.
Michelle Dickinson (aka Nanogirl): Dickinson, who set up and runs New Zealand's only nanomechanical testing lab, co-founded the charity OMGTech charity to give kids from all backgrounds access to tech learning opportunities.
What we're doing about gender inequality at ecostore
We measure gender split – 52% of our team and 53% of our managers are women. We have flexible work hours and offer the option to work from home on a regular basis, and we have HR policies in place to maintain gender balance.
We're not perfect. There is still much more we can do. But rather than looking at the gender gap as an overwhelming challenge, we see it as an opportunity to see more diverse solutions and better, more inclusive outcomes.
How we can get more women in STEM
Until we see more diverse perspectives as vital to innovation and discovery, we won't achieve true equality. Greater gender equality in education boosts the economic growth essential for building strong, sustainable and balanced societies. But, for many women, significant gains in education have not translated into better job opportunities.
In many countries, young women are increasingly better educated than young men. While girls are far ahead in reading, boys are slightly ahead in maths. And yet girls are much less likely to choose STEM subjects or jobs. This is partly due to discrimination, and partly because girls may not be able to clearly imagine themselves working in STEM. Visible role models matter – because it's hard to be what you can't see. For this reason, it's vital to share and celebrate girls' and women's achievements in STEM, and speak to girls about the requirements and rewards of choosing a STEM career.
We can also focus on breaking down gender stereotyping at a younger age, by encouraging girls to engage with maths and science, while getting boys more interested in reading. Attitudes are also determined by what happens at home, as it's at home that children first learn what it means to be a girl or boy. So parents and whanau (extended family) should be aware of their own biases and work on challenging those biases when raising all kids – not just girls.
We all have a role to play in helping girls develop the STEM skills and experience we need to solve the world's biggest social and environmental problems. Here are just a few things we can do:
Teach kids that intellectual skills are learned, not innate
Teach kids about stereotypes, while acknowledging and challenging our own biases
Create working and learning environments that support girls and women in STEM subjects and jobs
As a university: actively market and help women to choose STEM degrees
As a business: sponsor a 'Women in STEM' event, seminar or group
Develop clear, transparent criteria for success at school and at work
An equal world is an enabled world. #IWD2020
-----
Sources:
https://www.stats.govt.nz/news/women-in-paid-work
https://unesdoc.unesco.org/ark:/48223/pf0000246045
https://www.stardome.org.nz/kiwi-women-in-science-how-are-we-doing/
http://www.oecd.org/employment/50423364.pdf
http://progress.unwomen.org/en/2015/chapter1/
https://en.unesco.org/gem-report/sites/gem-report/files/GenderReview2016_eng.pdf