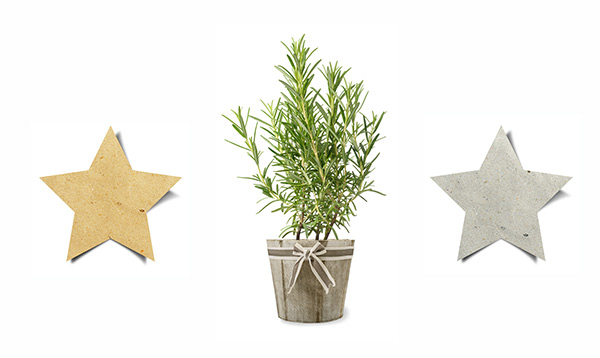 Simple ideas for eco Christmas gifts
Published on:
November 29 2017
When Christmas gift giving is done, a living room full of presents and paper and decorations is a familiar scene. Although it's a happy season, we might also end up with things that go to waste and that aren't very friendly when it comes to environmental impact.
If you're stuck for present ideas, here are some gifts you could consider to help people be greener as they head into the new year.
A house plant
A potted plant is a great way to create benefit for people and their surroundings. Plants help with healthier indoor air by filtering out dust and pollutants, releasing oxygen and absorbing CO2. And by greening up the space, they can help us feel calmer in this often hectic season. You might choose to gift an edible plant like a herb or small salad produce, which are really useful additions to any kitchen because people can boost their nutrition or add flavour to recipes.
A re-useable cup and bottle
Most of us grab water, tea or coffee during the day, and it's much more sustainable to use a cup or bottle that doesn't get thrown away. It's great that many disposable cups are recyclable, compostable or biodegradable, but a re-useable cup such as one made from BPA-free plastic or glass can be stored on your work desk or at home and used whenever a hot beverage is bought. A stainless steel or BPA free water bottle can also be used when out exercising or travelling, and saves on buying single use plastic bottles.
A fabric shopping bag
As retailers and shoppers move away from plastic bags, alternatives like cloth bags are needed. A sturdy, waterproof choice like a jute or canvas bag is ideal for use at the checkout and are usually sold be retailers themselves. And if you have spare suitable fabric at home, you can make your own bags to use as gifts. Re-useable bags can also be used to store or carry things other than groceries in between trips to the supermarket.
Upcycled products
Lots of companies are getting stuck into waste reduction by turning old items into new products and many of them make fun gifts. Some recent examples include laptop and tablet cases made from wetsuits, backpacks made from fabric that comes from plastic bottles, vinyl records re-purposed into bowls, floor mats from reclaimed rubber, watches from recycled timber, and much more.
Eco products for the home
Household products that are made with the environment in mind are a really green option. A set of products to cover the basics of home cleaning is helpful and sustainable, plant based ranges help reduce negative impact on waterways when the dishes, laundry and cleaning are done. Our healthy home starter kit brings these products together in a bucket made from recycled plastic.
Large handkerchiefs or bandanas
A packet of either of these has many uses other than a head cover or to blow the nose! Because they're made of material, they can be used instead of paper products like serviettes, wipes and even plastic food wrap, to cut down on waste.
A present that's not a thing
One of the best ways to reduce the amount of material things that can harm the environment is to instead gift an experience, a service or a donation to a cause. One idea is gifting a membership to an environmental charity, or you might want to give a voucher for an activity that lets a friend or family member get out in nature.