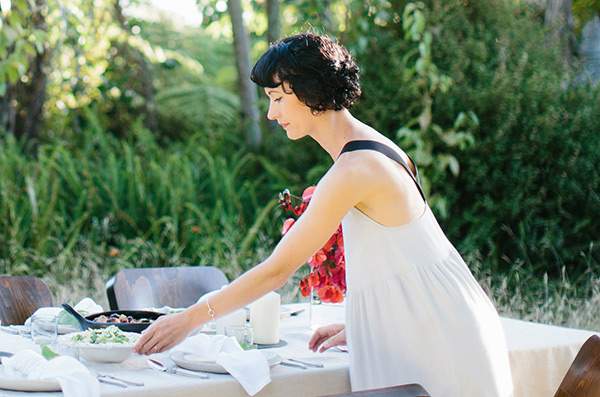 Wellness Warrior: Eleanor Ozich
Published on:
November 21 2017
After a couple of years working long and relentless hours, Eleanor Ozich looked for a simpler way of life and now keeps well with healthy food, self care and the nurturing effect of nature. We asked her more about her journey and her daily lifestyle.
1. Tell us more about your background.

My journey to wellness began about five years ago, when our daughter Izabella developed a severe skin condition and food intolerances. We visited countless doctors and specialists, and then finally, a naturopath who explained how she was struggling with an imbalance of gut flora, causing toxins that were resulting in her skin condition, among other issues. This revelation made complete success to us. We embarked on a journey to heal her skin through eating a more natural diet, and adopting a simple way of eating that many seem to have lost sight of. During this time, we lived in a tiny apartment, and I started a blog named 'Petite Kitchen'. Since then, I've become a bestselling author, self-taught photographer and added another little one to our family of 5. You'll also find find my work in various publications, including Taste magazine, The Natural Parent Magazine and a weekly lifestyle column for Viva in the New Zealand Herald.
Over the years, my website shifted ​to include more ​​stories about our lifestyle and naturally the name 'Petite Kitchen' no longer resonated. Now I write under my author name instead. Here, you will find daily musings, recipes and ideas for living a less complicated way of life, in a natural, down-to-earth ​way.
2. What motivated you to seek a simpler way of life?

After the success of my first two books, what followed was a whirlwind couple of years, working long, relentless hours, and losing sight of the everyday things that mattered to me the most. Even though I had a career that I loved, I felt as though I was being pulled in too many different directions, each day becoming more detached from the simple lifestyle that I desperately yearned to live. So we decided to move from the hustle and bustle of the city to a little 1950s beach house nestled among native bush and beautiful birdsong in Titirangi, Auckland. Shedding unnecessary clutter and adopting a simpler style of living, I found myself with more time and energy to appreciate family, friends and the small pleasures in life.

3. What does a simpler way of life look like for you and do you have some tips for people who want to take a more minimal or decluttered approach?

When you live a life that's less complicated, the world seems to have a beautiful way of opening up opportunities for you to find joy and meaning even in the most ordinary of things. And once the virtue of simplifying becomes ingrained in your everyday living, it becomes a lifestyle that is by nature, continually adapting and evolving, just like the seasons around us. I believe that simple living isn't about determining how little we can live with; it's about celebrating the things we simply can't live without. And the only way to fall in love with ​the ​simple things, is to let go of the clutter in your life. My first tip would be to take a good, long look at the things you own, and ask yourself ​ how you feel about them. ​It's wonderful to own things you love, but by acquiring them sparingly, the appreciation is so much more satisfying. Over the past ten years we have moved a number of times, and with each move it felt natural to let go of things that added clutter to our home. I realised I only needed to keep and acquire things that I found very beautiful, that bring immense joy, or that are useful on a daily basis. Whether items in your home are broken, carry bad memories, or serve no practical purpose, we can benefit in so many ways from simplifying and learning to let go of the things that no longer serve us.
Secondly, I'd reccomend trying out this simple yet surprisingly effective feng shui method that can help to create positive energy and an inspiring sense of change in your home. All you have to do is 'move' twenty-seven things. For example, you could beautify a shelf by placing on it a few things you'd like to admire each day, you might clear some clutter and donate items to those in need, or perhaps change your pillow cases, and then drape a thick, luscious blanket over the end of your bed. It's the little, thoughtful changes that cultivate a sense of harmony and calm around you. You might even notice a new love and appreciation for the things you own — I certainly do.

4. What's your philosophy on the kind of food you like to eat to stay healthy?

Vegetables and fruit make up about 70% of our diet, and so seasonal, locally grown produce is essential to inspire the meals I create. I've come to find so much pleasure in simple, healthy food, the kind of food where you can taste all the flavours because of the quality of the ingredients. It's paramount for our food to still taste incredible, because after all, I love to eat! which is why I try to find the perfect balance of health and deliciousness.

5. What do you do in your every day life to keep well, such as self care practices?

My favourite self-care practice would have to be the simple preparation of making tea. The ritual begins from the moment I pop the kettle on. I love to relish in each step of the process; appreciate the delicious aroma, sip slowly, and take long, deep breaths right in to my belly as it warms me up. In the morning, I make matcha tea with ​oat milk and a touch of vanilla, It's a wonderful alternative to coffee if you're thinking of cutting down. To prepare myself for a good sleep, I'll enjoy a mug filled with creamy chamomile, honey and nut milk tea. I also love rooibos​ tea,​ ​with​ it's soft, caramel flavour.
Secondly, I find spending time in the kitchen a beautiful way to relax and unwind. I love to cook, and believe that making food should not only be about the end result, but the small, gentle, joyous moments along the way. You can certainly taste the difference too, when love and care has been bestowed in to the food we eat.

6. You mention you live near the beach and with bush nearby - how do you and your family make the most of these natural surroundings?

The effect nature can have on our soul is deep, magical and captivating. It's something so simple, yet more often than not, we rarely take enough time to appreciate our surroundings, and the strength it has to offer us. Whenever my children or I are feeling frustrated, we step in to nature, ​this is usually a ​wander down the beach, or ​a slow walk around​ the neighbourhood. ​A self-care practice ​I do, is​ to let my mind wander along with my body, noticing the small pieces of life I come across. It's become a daily ritual that I always look forward to, and the same goes for my little ones.
Eleanor's book the The Art of Simple. is out now.
She says: "You will find recipes and ideas I've embraced in my quest to cherish life's simple pleasures. Alongside recipes for nourishing meals, it includes tips to de-clutter your home, calming night-time rituals for children, and ideas for bringing order to your day. There's also methods for making natural beauty products and household cleaners, which will cost you less and be kinder to you and the environment.
Eleanorozich.jpg