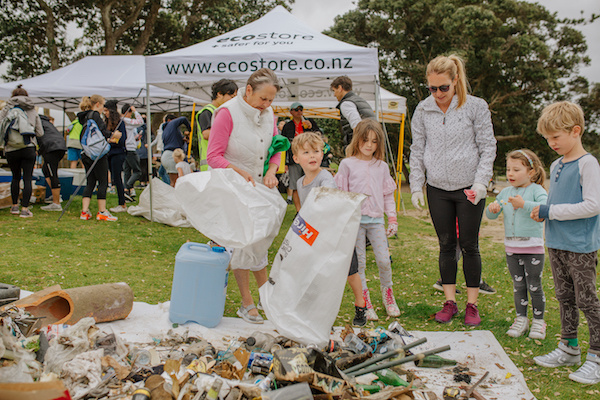 Taking care of Taka
Published on:
November 22 2018
On Saturday the 3rd of November, we joined our good friends Sustainable Coastlines at Takapuna Beach to give the beach a thorough clean up, just in time for summer.
One of the North Shore's most loved beaches, Takapuna is a big part of life for thousands of Aucklanders. Locals take very good care of their beach, but we wanted to lend a few helping hands and make sure Taka is spotless for summer, and stop any litter on the beach from reaching the marine environment.
The clean-up started at 10:00am, and ecostore Managing Director Pablo Kraus welcomed and thanked the 283 tidy Kiwis (an incredible turn out) who had given their Saturday mornings to help. "It's wonderful to see families coming along to help clean up the beach, but also to raise awareness about doing the right thing, and being a tidy Kiwi."
Ryley and Fletcher from Sustainable Coastlines then gave everyone a quick briefing - and everyone heading off to pick up the pieces of rubbish that would otherwise end up in the ocean.
In a bit less than two hours, everyone had collected a massive 500 litres/62.5kgs of rubbish! We thought it was amazing that although the beach looked pretty tidy, it was amazing how much trash we found once we got up close. The worst offenders are often the smallest ones, like cigarette butts, lollipop sticks, and plastic pellets. But we also found plenty of plastic bottles, straws, drink cans, and a single shoe… to keep us busy.
But as they say, many hands make light work…
With the beach spick and span, and the hard work over, at midday we let award-winning guitarist and singer-songwriter, Jamie McDell (who also joined the clean-up) take over to perform a free gig. It just happened to be Jamie's 26th birthday, so we presented her with some beautiful blooms from Blush Flowers and a bag of ecostore goodies.
The event was a massive team effort. Huckleberry provided plenty fruit for the hard-working picker-uppers, while Phoenix drinks took care of liquid refreshments. The Hits played tunes to keep everyone motivated and provided some extra shade.
And the weather came to the party too. Despite being quite an overcast day, the famously unpredictable Auckland rain managed to hold off.
The ecostore refill truck was parked up at the beach - so people could stock up on their favourite ecostore products and reduce their plastic use at the same time.
The clean-up was part of our Limited Edition campaign, which kicked off in early September. For every limited-edition black bottle of Vanilla & Coconut Hand Wash or Body Wash sold, we've donated 20c to Sustainable Coastlines, to support the great work they do keeping our coast and waterways clean. There are still a few limited-edition bottles left if you like to grab your own.
From the team here at ecostore, a huge thank you to everyone who helped out - in the lead up to the event and on the day. If you'd like to get involved in future beach clean-ups, visit our friends at sustainablecoastlines.org