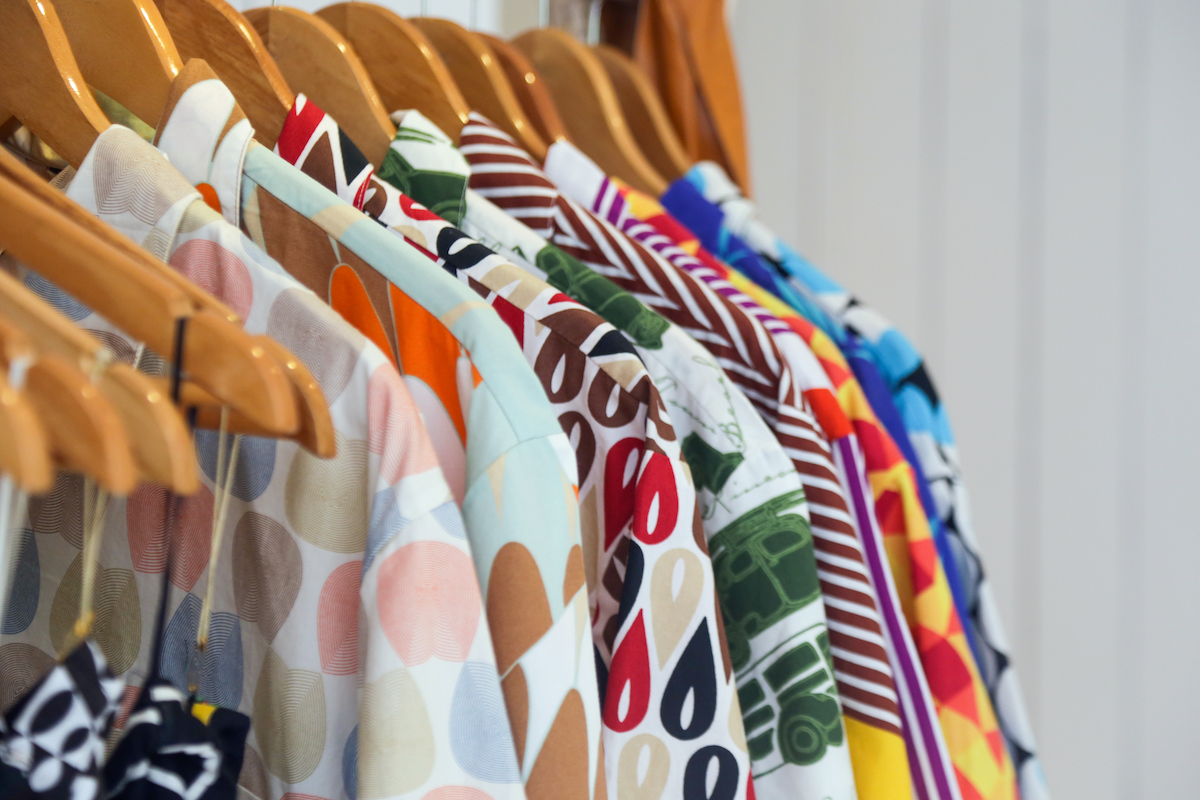 Love your clothes (and they'll love you back)
Published on:
November 14 2019
Did you know, looking after your existing wardrobe is the new shopping? Well, we just made that up. But we're hoping that with this set of fashion insider's tips, the trend will catch on.
Less is almost always more
When it come to your wardrobe, it's always a good idea to purchase quality. Invest in pieces that stand the test of time – and you'll want to take care of them. Trends for these classic pieces don't change nearly as fast as more 'fashion' items. Search YouTube for 'classic wardrobe staples' or something similar. You'll find hundreds of videos with ideas to help you choose and put together your essentials.
You don't need to spend heaps, either. Buying secondhand is a good way to incorporate higher quality clothes in your wardrobe. And a better purchase for the planet too.
Clues that an item is made to last include: natural fibres and a general attention to detail, as well as sturdy seams and secure buttons. Don't be afraid to turn garments inside out and look at the construction, linings and care labels. It's also a good idea when trying them on to see if the fabric stretches in one place more than another. In delicate fabrics like silk, this will cause puckering.
Show your clothes you care
Make taking note of care instructions part of your clothes shopping experience.
Some manufacturers will cover themselves by putting 'dryclean only' on the label.
You have three choices here: 1. Buy the garment and factor in the cost and chemicals of getting it drycleaned for the rest of its life. 2. Don't buy the garment. 3. Buy the garment with a plan to very gently and sparingly handwashing it. Only choose option three if you're prepared to handwash in lukewarm water, using a specialist detergent and gently blotting with a towel before drying flat on a clothing rack. And even then, proceed with caution. Some vintage fabric dyes are not colourfast, and some wools and cashmeres will want to turn into felted dolls' clothes.
If you're buying on an auction site, feel free to ask the seller to post an image of the fabric composition and care instructions label. It may also include the country where the garment was made – these details together will also help you determine whether that pricey 'designer' item is the real deal.
Please repeat this mantra, 'I will not hang my knitwear, or suffocate it in vacuum bags'. Hanging jumpers is a no no – as it stretches them and creates those pesky hanger marks on the shoulders. Knits should be folded and stacked on a shelf where they can get air around them.
Airing your (clean) laundry
As well as using electricity, tumble drying puts other stresses on clothes. Things get hot, tangled, shrunk, melted… And the results are often not pretty. Line drying is much gentler than a dryer, and drying on a rack is even better – as it keeps clothes in shape and doesn't leave marks from clothes pegs.
Metal components like studs, rivets and zips can get caught on delicate fabrics, and become really hot in a dryer. Wash things like jeans with other heavy duty items if possible. And always wash delicates like silk and lace in a lingerie bag, or better yet, hand wash.
Washing machines can be pretty rough on clothes. Apart from your 'smalls' – unless you've spilled something, or it smells, you don't need to wash everything after one wear. The delicate cycle uses less agitation, so there's less wear and tear – gentler on precious things that need a little extra TLC.
Dark denims and black cotton fabrics can fade in the wash. It's a good idea to turn them inside out, and use a mild laundry detergent that doesn't include bleaching agents or optical brighteners. Avoid using fabric softeners on super dark denim washes too – they can 'crack' the colour.
Ice is nice
If moths are the mortal enemy of knitwear, there's an appliance in your home that's about to become your best friend. No, not the washing machine – the freezer. Seal each piece of knitwear in a plastic bag and place it in the freezer for at least 24 hours (more if you can) to get rid of bugs without chemicals.
Tip: Once your knits are moth-free, keep them that way by handwashing with a detergent specially made for wool and delicates that contains natural eucalyptus or lavender, which moths hate. When you store knits, check they're free of food stains or crumbs – a smorgasbord for peckish moth larvae.
Your freezer is also great for silk shirts that only barely pass the sniff test. (Bonus – this tactic works on jeans too.) Again, pop them in a bag and leave for a day or two, to kill any bacteria in the fabric. Got gum on your clothes? It's easier to get off if you freeze the sticky garment overnight, first.
The irony of ironing
If you live in an area with hard water, or the plate is a bit sticky, cleaning your iron with just baking soda and water will help you protect your clothes.
Make a paste of water and baking soda, and spread it on the plate (the bit that gets hot).
Gently clean the steam holes with a cotton swab
Wet a clean cotton or linen cloth
Fill the reservoir with water (filtered if you can) and turn the iron on
Iron the wet cloth until it's totally dry (ironing a wrinkled pillowcase = two birds, one stone)
Switch the iron off and leave it to cool down
While ironing makes clothes look better in the short term, too much is hard on clothes. One symptom is the dreaded 'shiny pants' syndrome. To avoid this, hang trousers from the hems using a trouser hanger – the weight will gently ease out wrinkles. If you do need to iron, try doing it through something that can handle the heat, like a linen tea towel. You won't need as much heat or pressure if you line dry garments and iron them while they're still slightly damp.
And no, you don't need to iron jeans. Ever.