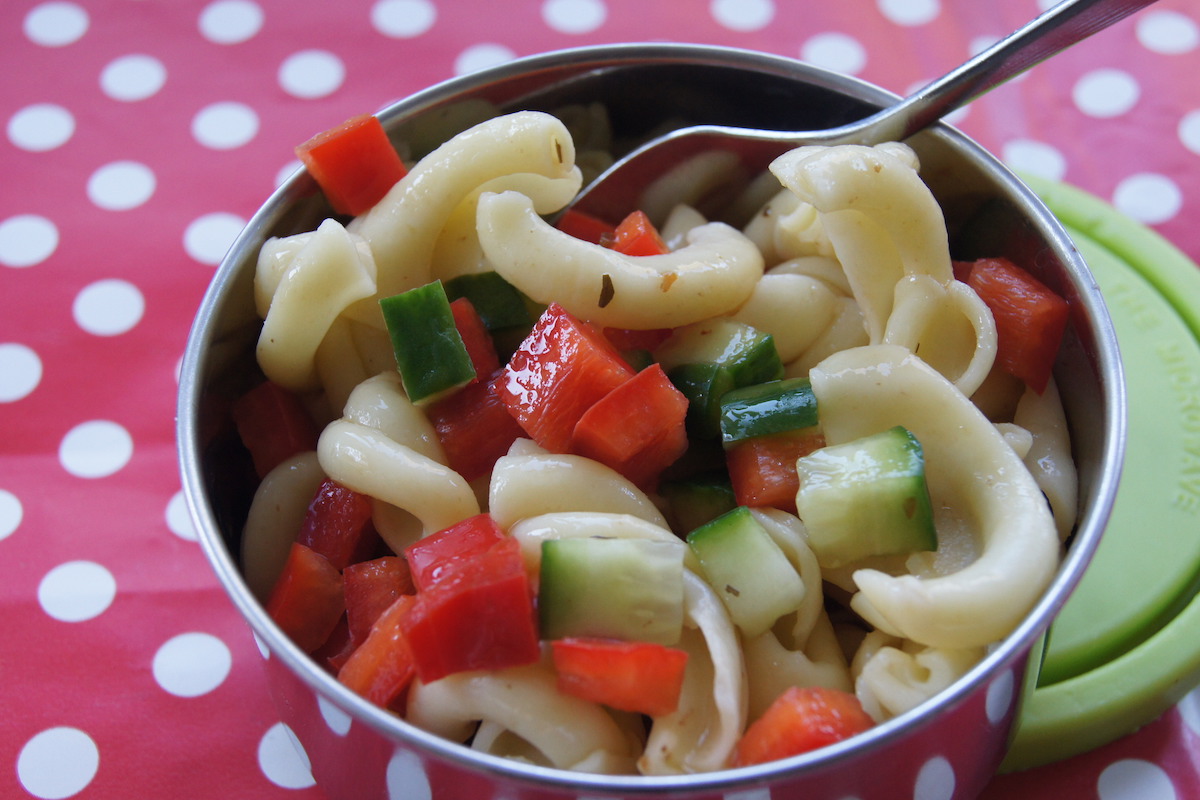 Healthy ideas for kids' lunchboxes
Published on:
February 26 2020
If you make your child's lunch each day, did you know that you're making around 200 lunches a year? Just for one child! Finding healthy ideas for the kids' lunchboxes is a never-ending task. To help add some variety, here are five recipes to try out with your kids.
Pasta Salad
Main image
This lunch idea is another one that can use up left overs from last night's dinner! Simply add some pasta and veggies like pasta, cucumber, red capsicum carrot etc and then drizzle a small amount of balsamic vinegar olive oil as a dressing.
Choc Chip Oat Balls
These delicious Choc Chip Oat Balls are easy to make. If you have kids who have gluten allergies or intolerances, make sure you use oats that are certified gluten-free. While oats are naturally gluten-free they are often contaminated with gluten as they are processed in the same facilities as gluten-containing grains like wheat, rye, and barley.
Ingredients:
2 cups rolled oats
2 cups quick oats
100 grams butter
½ cup honey
2 tsp vanilla extract
¼ tsp Himalayan Pink salt
¾ cup small choc chips
Method:
Place oats in a medium sized bowl and set aside. Using a mix of quick and rolled oats isn't essential, but it makes it much easier to shape the balls if you have some quick oats in the mix.
In a small saucepan, melt the butter and honey until well combined, remove from heat and then add vanilla and salt and mix through.
Add the honey liquid to the oats and mix well. Place the mixture in the fridge to cool for 15 minutes. This helps make it easier to roll the balls and it prevents the choc chips from melting.
Add in the choc chips and stir through evenly.
Using a heaped tablespoon, roll mixture into a ball. If you are finding the mixture is sticking to your hands, clean them, then rinse them with cold water. Begin rolling the next ball with slightly wet hands.
Continue this until all mixture is used and then place in the fridge for 2 hours to set.
Keep in the fridge in an airtight container.
Nut-free Choc Peppermint Balls
Many schools have nut free policies due to the anaphylaxis reaction some children have, so having some tasty treat recipes that are nut free is handy. If you don't have to avoid nuts, then replace the seeds with nuts like cashews and almonds.
Ingredients:
1 cup raw pepitas
1 cup raw sunflower seeds
2 cups dates, pitted
2 tbsp cacao powder
2 tsp vanilla extract
5-7 drops of pure peppermint essential oil
Method:
Add seeds, dates, vanilla and cacao powder to the food processor and pulse until it forms a dough-like consistency. To test it's ready you should be able to squeeze the dough easily to form a ball which stays together well.
Add peppermint oil to the mix and pulse for 10-15 seconds or until well combined.
Using heaped tablespoons of mixture, make into balls.
Place in an airtight container in the fridge and let sit for 2 hours. These can also be frozen.
Simple Egg Muffins
Eggs are a great source of protein for growing kids. Combine that with lots of veggies thrown in and you have a healthy lunch item for the kids. You can use leftover mashed or roasted veggies from dinner the night before, making a combo you know your kids will like.
Ingredients:
12 eggs
8 rashers short cut rindless bacon (replace with additional veggies if you want the muffins to be meat free)
½ onion
Two large handfuls of baby spinach
1 cup mashed sweet potato or other mashed veggies
Salt and pepper to taste
Method:
Preheat oven to 170°C.
Whisk eggs.
De-stem and roughly chop baby spinach.
Add everything else but bacon to eggs, whisk again.
Cut squares of baking paper and line muffin trays.
Pour/spoon egg mixture into muffin trays.
If using bacon add bacon to each muffin.
Bake for 20 minutes or until golden.
Rainbow Rice
Rainbow Rice is an excellent two-in-one recipe – it can work as a light meal for dinner and then kids can take a serving for lunch to school. I have suggested veggies for the recipe, but you can use any veggies you have on hand. Aim for a mix of colours - red, orange, green, yellow etc, which provide great variety and nutrients for the kids. You can find the recipe for Rainbow Rice here.
Happy lunchbox making!
-----
Nicole Avery is a Melbourne mum to five beautiful kids aged 8 to 18. She is the master organiser behind the popular parenting blog Planning With Kids and the author of a book by the same name, where she shares tips and tricks for organising the chaos of family life.