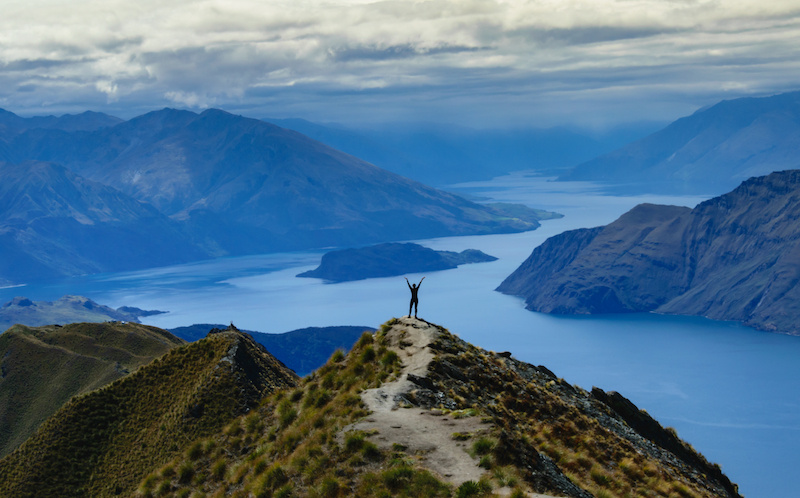 Take a (Day) Hike - 4 Great Walking Tracks in NZ
Published on:
February 07 2019
Our beautiful country is justifiably world famous (and not just in New Zealand) for its Great Walks. But not all of us have the time, inclination or fitness level needed to tackle those majestic multi-day hikes.
For overseas visitors, hiking (tramping to us locals), is a major drawcard for making the long journey to New Zealand. But for those of us living here, it's easy to get complacent about the accessible natural beauty around us. The good news is that our awe-inspiring wilderness can also be explored on day hikes. So to help you make the most of the rest of summer, here's a small selection of great day walks, from north to south.
Twilight - Te Werahi Loop
Location: Te Paki Recreation Reserve, Cape Reinga /Te Rerenga Wairua, Northland
Length and approximate time: 16km, taking about 4-5 hours
Fitness level: You'll need moderate to high level backcountry skills and experience, navigation and survival skills
Nearest town: Te Paki (5 km away)
This far north walk offers a glimpse of the region's wild, natural drama. You'll encounter formidable seas, proud headlands, shifting, rippling sands, and ever-changing light. The track meanders between vast beaches and coastal forest, covering a range of landscapes and terrain as you cross paddocks, immerse yourself in Mānuka bush and clamber over sand dunes.
While you're there, add a journey to where the churning waters of the Pacific Ocean meet the Tasman Sea at windswept Cape Reinga (Te Rerenga Wairua). It's here that Māori spirits are said to depart for the afterlife, descending into the sea via a Pohutukawa root on their way back to Hawaiiki-A-Nui.
Tongariro Crossing
Location: Mt Tongariro, Central North Island
Length and approximate time: 19.4km one way, taking around 7-8 hours
Fitness level: Moderate to high.
Nearest town: Whakapapa (10.4 km away)
Tongariro National Park is a UNESCO dual World Heritage Area and the first in the world to receive cultural World Heritage Status. This challenging, visually spectacular hike starts at 1120 m, then climbs the Mangatepopo Valley to the saddle between Tongariro and Ngauruhoe, through South Crater before climbing again to 1886 m at Red Crater.
This may be as close as you'll ever come to walking on an alien planet: the trek takes you through a dramatic (active) volcanic landscape of ancient lava flows, steaming vents, valleys carved by glaciers, and strangely glowing emerald crater lakes.
On busy days, more than 1000 other people will be hiking too, so it can feel like more like commuting than communing with nature. To avoid the crowds, visit early or late in the season, and watch for changeable weather.
Start by 8 am to make sure you have enough daylight hours, and pack a headtorch just in case.
Turn back if weather conditions aren't great in the valley - they'll get worse the higher you go.
Wear strong, rigid boots to reduce the likelihood of slipping when you descend the steep scree slope from Red Crater.
You need special skills and preparation in winter, like the ability to use an ice axe and crampons.
Hooker Valley
Location: Aoraki/Mt Cook, Canterbury
Length and approximate time: 10 km return, taking around 3-4 hours
Fitness level: This is a pretty easy walk on a well-maintained track with a flat-ish gradient
Nearest town: Aoraki Mt Cook village (2 km away) - start at the White Horse Hill Campground at the end of Hooker Valley Road
Summitting New Zealand's highest peak is hardly a leisurely stroll - this is mountain terrain best tackled by serious climbers. But you can get a taste of its majesty with a day hike around the base of Aoraki/Mount Cook, starting from its namesake village.
You'll wind up the sacred Tōpuni area of the Hooker Valley, which is significant to the Ngāi Tahu iwi, past alpine streams and glaciers in the shadow of Aoraki/Mount Cook. Your rewards include views of Mueller Glacier, Hooker Lake and of course the big mountain itself. The return walk traverses snow blanketed boulder fields and aquamarine, glacier-fed rivers. The walk isn't too challenging, but watch for slippery patches due to snow and ice.
Try to walk this stunning track at dawn, to view the first rays of the sun creeping over the Southern Alps. You may even hear or see a Kea, our highly intelligent (and sadly endangered) alpine parrot.
Roys Peak (pictured)
Location: Wanaka area, Central Otago
Length and approximate time: 16 km return via the same track, taking around 5-6 hours
Fitness level: this is a pretty easy walk on a well-maintained walking track with a flat gradient
Nearest town: Wanaka (6 km away). Start from the Roys Peak Track car park on the Mount Aspiring Road.
With beautiful Wanaka as the backdrop, you'll climb from lake level through farmland then up into the tussock tops to the 1578 m summit. The sights, smells and sounds of this wide Central Otago natural landscape surround you as you ascend 1,500 metres on a well-formed track. You're rewarded with remarkable views of Lake Wanaka, and towering snow-capped Southern Alps, including Mount Aspiring/Tititea.
This track crosses private land, so it's important to tread lightly on the owners' property - that means no litter (not that you tidy Kiwis need reminding), and keeping a respectful distance from livestock. Stay on the track, leave each gate the way you found it, and use the stiles provided. At busy times (over summer) you may prefer to walk or bike to the car park - via the Waterfall Creek Track that connects to the Roys Peak Track - as car parking's limited.
Be prepared
Like some other ideas?
Guest contributor Mallika Goel of Break the Resistance shares her exhilarating experience hiking around Mt. Pirongia. For Auckland based readers, Chanelle Clinton offers a couple of alternative walks that respect the Waitakere rahui