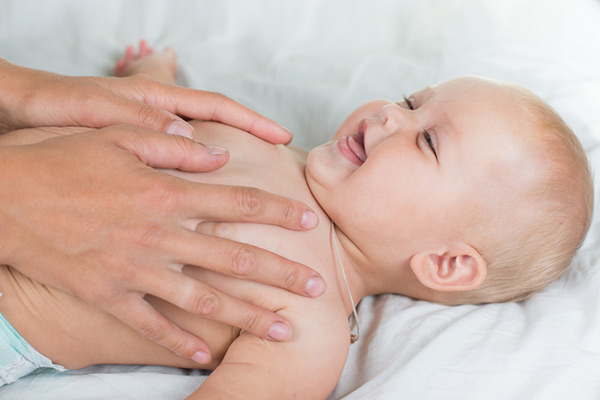 Strengthen the bond with baby massage
Published on:
October 06 2017
We nourish and connect with our little ones in so many ways - through healthy food, warm clothes, cuddles and good sleep. Whether it's holding them, bathing them, getting them off the sleep or putting on their clothes, it's touch that makes such a powerful connection between you and your baby.
The great thing about baby massage is it makes that touch connection so deliberate and sets aside special time for parents and babies to bond. It may also have particular benefits for our little ones - as well as helping to soothe and relax them, it can assist with better sleep, and allows both babies and parents to produce more of the 'feel good' hormone oxytocin.
If you haven't tried baby massage before or want some extra inspiration, here are some tips to consider and see what works for you:
Choose the best time
Baby massage is best done when there is enough time in the family schedule for a good outcome - try not to squeeze it in between big things or before you need to go out. After bathing your baby can be a good time because they'll be relaxed and by this time they've generally been fed and have a new nappy (if you want them to be wearing one during the massage). It's also a time when you want to help relax them for bedtime.
Create the environment
For a calm atmosphere it can help if the room is quiet or there is soft music playing, and the lighting isn't too bright. It's also ideal if the air is warm but not too hot. You can place baby on a towel or comfortable mat in front of you, on the floor or next to you on the couch or bed.
Choose the ideal oil
Because a child's skin is thinner and more delicate than an adult's, it's important that any product that goes on their skin is gentle and nourishing. It's great to pick one that's moisturising as well as soothing - ecostore's baby oil has black currant and almond oils for this, and it's free of mineral oil, a petrochemical-based ingredient. With nourishing ingredients, mums can also use this oil on their own skin.
Starting off and techniques
Rub the oil between your hands to warm them up first, then massage a small area of baby's skin to make sure they're in the right mood for the massage and that the oil will work well. Starting with their feet is often recommended as this area is less sensitive than others, massaging from heel to toe across the sole, giving each toe gentle squeezes, stroking the top of the foot, then stroking from ankle to thigh and back down. Soft twisting, or 'milking'/pulling type techniques can be tried on their arms and legs. For the mid section, the 'I Love You' method is a common suggestion. The 'I' is a long stroke down baby's side, the L is reversed into a stroke from their right side across to their left, then the U moves from their lower right side, up past the belly button, then down to the lower left side. For the shoulders and arms, try gentle strokes from the shoulder inward to the chest, then from each shoulder to the centre of the neck and out to the arm on each side. A back massage may be done from side to side along with up and down, taking care to avoid the spine. For the face and head, you can stroke your thumb across from the middle of the forehead out to each ear, then 'draw' gentle circles on their head with your fingertips, but without strong pressure on the fontanel or softer areas.
General tips
Observe your baby during the massage - if they're not enjoying it or if they fall asleep, you can finish earlier.
There is no set rule about when to start, but it can be done as early after bringing them home as you feel comfortable.
How often you massage them depends on your schedule and how they respond to each massage.
You don't need to do a long massage or have a set routine each time - try focusing on the areas baby is enjoying, or just some quick strokes in between cuddles.
Check out our baby oil online.