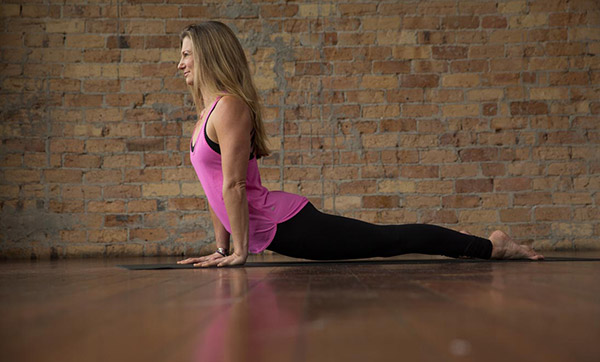 Five ways to better posture with yoga
Published on:
November 06 2017
We have entered the age where there is a modern day health problem called 'tech neck.' Improper posture while using technology is a very common factor in poor posture and technology is recognised as one of the principle causes of this modern day posture epidemic.
The funny this is you may be reading this on your phone, iPad or laptop. If so, don't change a thing about your posture and check how your body positioned. Is your head forward? Are your shoulders rounded? Is your lower back slumped? How does your lower back feel? Or perhaps take a look around you and observe other people's posture, and the way it slips and almost folds inwards.
Over long periods of time, maintaining this head-forward posture can lead to muscle strain, disc injury, nerve impingement and arthritic changes of the neck—and the potential for developing ongoing neck and shoulder pain, headaches, and pain radiating down the arms.
This is how our tech savvy children are growing up and creating postural habits like this from a young age. There is no getting away from technology and we need to use it in our culture to stay up to date and relevant, but when you consider the kind of risks mentioned, it adds a whole other layer. Just as we have learnt to embrace technology, we also must learn to adopt tools and strategies to counterbalance these new stressors on our system.
5 ways to counterbalance 'tech neck'
Take regular breaks
Set your timer for every 15-20 minutes to get up, move around and do these poses throughout your day to counteract the effects of phone and laptop use. These poses lengthen the front muscles of the neck, which tend to get shortened when we hunch over a screen or a keyboard. They also realign the shoulders and upper thoracic spine, freeing the lower cervical vertebrae. Restoring a natural curve in the spine also opens the shoulders and may even ease rotator cuff and elbow pain.
Baby cobra pose
Lay on your belly, with your palms pressing into the floor just beside your lower front ribs.
Firm up your legs and press the tops of the feet to the floor.
As you inhale peel your spine up off the floor, head moving last. Draw your shoulder heads back plugging the arm bones into the sockets, curl your shoulder blades down the back and into your heart.
You can float the hands so that your upper back muscles are holding you.
Lower as you exhale and repeat twice more.
Option for a little more, on the final one you can move the top of the thoracic spine (around shoulder height) and the bottom of the cervical spine (around shoulder height) in toward the front body and take chin up for an extra stretch.
Downward facing dog pose
From hands and knees, align hands directly beneath shoulders and knees directly beneath hips.
Press the index knuckle down to engage your forearms. Lift the armpits up toward the ears. Use gravity to soften and melt arm bones into the sockets.
Keeping the arms straight, lift lower body into downward facing dog pose (adho mukha svanasana) while the rest of the body stays the same.
Keep the armpits lifted, up away from the floor not 'dumping into' the shoulder joint.
Then stretch heels back into the full pose without dropping the armpits, keep knees bent if you need to to keep a long spine.
Neck and forearm reset
You can do this one seated in any position, even at your desk. Sit up tall.
Bring the palms together in front of your chest, with the wrists at elbow height (the heal of the hands may not be touching if you are tight in the wrists, thats ok!)
Again lift the armpits up towards the ears, getting long in the sides of the body, draw the arm bones back into the shoulder sockets, so that the chest is bright and proud.
Draw the chin and forehead evenly back a few centimetres.
As you exhale press the hands over to the right as you turn your head to the left.
Repeat a few times with good alignment.
Use technology more mindfully
Wouldn't it be great if we could practise yoga all day? Just imagine how good you would feel.Well, guess what? You can! Take your yoga off the mat and choose to use technology more mindfully. Set boundaries around usage for yourself and children, get up and take regular breaks, incorporate tools, stretches and strengthening exercises into your day. Bring your device up to eye level instead of peering forward and dropping your head down to get a closer look. But most of all, stand tall and proud, lift yourself up and observe how that lifts your energy, how you can breathe better and your postural stance exudes confidence and openness. Go on, put the device down and walk tall.
This article is not intended to substitute for medical advice. For any concerns, consult your health professional.
Nikki Ralston has been working with the human body for over 15 years. She devised the Ralston Method, which blends together elements of hatha, vinyasa, precision alignment and mindfulness teachings. She is also the owner of Urban Ashram in Auckland.