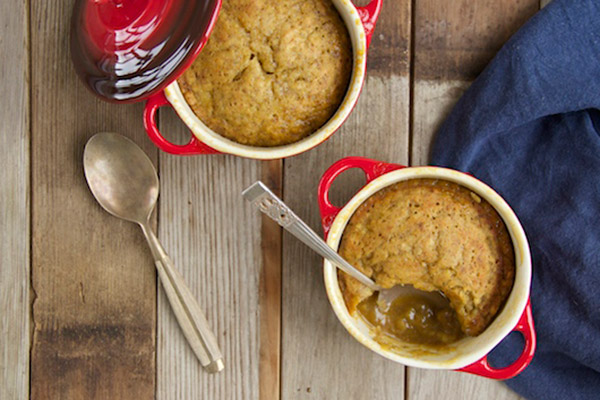 Zoe Salmen's delicious banana buckwheat self-saucing pudding
Published on:
June 29 2015
This rich banana pudding is incredibly satisfying. It's best served fresh from the oven on a chilly Winter's night, with a generous dollop of whipped cream and your favourite throw wrapped around your feet!
It is made free of gluten and refined sugar, using my favourite wholesome flour - buckwheat. You can use the full quantity of flour as buckwheat, but the cake doesn't rise quite as much and is denser. By adding a little premixed gluten free flour (rice/tapioca) the result is a light and fluffy banana cake with oodles of scrumptious, sticky butterscotch sauce - perfection!
Banana Buckwheat Butterscotch Self-Saucing Pudding
Serves six
Gluten free and refined sugar free
Ingredients:
1/2c buckwheat flour
1/2c gluten free flour (either premix or white rice)
1 tsp baking powder
1/4c coconut sugar
1/4c maple syrup
2 large very ripe bananas, mashed
1/4tsp vanilla bean paste
1 large free range egg
50g butter, melted
Sauce
1tbsp rice flour
1/4c coconut sugar
1/4c maple syrup
1.5c boiling water
To Serve
Method:
Preheat the oven to 180°.
Grease a medium ovenproof dish, or several smaller dishes (if you are wanting individual servings) and place on an oven tray.
Place flours, baking powder and coconut sugar into a medium bowl, stir with a fork.
Place maple syrup, mashed bananas, vanilla, egg and cooled melted butter into a separate bowl, mix until well combined.
Add to the dry ingredients. Using a wooden spoon, stir to a smooth batter. Pour into prepared dish/es.
In a small bowl mix all sauce ingredients until coconut sugar has dissolved.
Gently pour over the cake mixture.
Place pudding into preheated oven and bake for 20-40 minutes depending on size of your dish (20 minutes for individual portions, 40 minutes for 1 large pudding). If unsure, a skewer will come out clean, if inserted only halfway into the pudding.
Serve warm, with whipped cream!
Note: If you have leftovers, you can easily reheat these by pouring a small amount of hot water over the pudding and reheating at 160° for 10-15 minutes.
Zoe Salmen is the owner and operator of Little and Loved - she's a mother of two who's passionate about living sustainably. You can find all her recipes over on her blog.