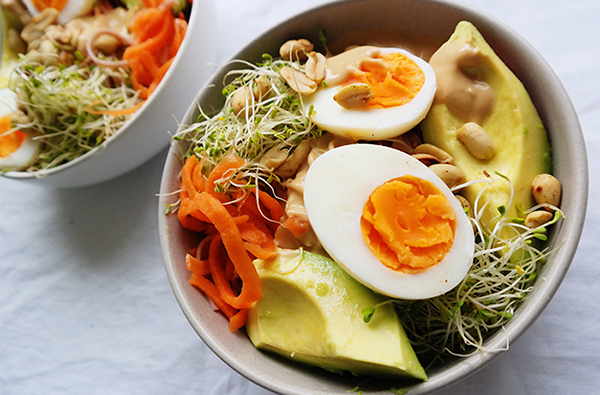 Try this peanut noodle salad for a healthy lunch
Published on:
August 04 2017
This salad is also super flexible, you could use courgetti noodles or even add in some lightly blanched asparagus or broccoli for extra green. Pack in a jar for lunch during the week by layering sauce, then noodles, peanuts and sprouts. Keep eggs and avocado whole in separate containers until the day you need them.
Serves 4.
INGREDIENTS
2 servings of soba or beetroot noodles
1 tsp olive oil
4 carrots
3-4 large eggs
1/2 cup smooth peanut butter
1/2 teaspoon chilli flakes, crushed
3 tbsp brown rice vinegar (apple cide vinegar would work too)
1 tbsp toasted sesame oil
2 medium cloves garlic, crushed
Small handful of coriander, finely chopped
Juice of half a lime
1/4 cup - 1/2 cup hot water
Sea salt to taste
2 avocados
1/2 cup roasted peanuts
1/2 cup broccoli sprouts
METHOD
Cook the soba noodles in a saucepan of salted water. Drain and place in a bowl with the olive oil and toss to stop sticking. Use a spiraliser to make noodles out of your carrots, and add to the bowl. If you don't have a spiraliser you could use a julienne peeler or extra noodles and grate 2 carots in at the end.
Place the eggs in a large saucepan and cover with cold water. Bring to the boil then turn off the heat and leave to cook for 7 minutes. Quickly drain the water and place eggs in a bowl of iced water and peel.
To make the dressing, mix the peanut butter, chilli flakes, vinegar, oil, garlic, lime and coriander. Stir in the hot water a few tablespoons at a time, until you are happy with the consistency. It should be creamy and smooth. Taste and adjust flavours until you are happy - maybe add a little salt, more lime juice or more sesame oil.
Quarter your avocados and halve the peeled eggs. Stir half the sauce into the noodles. Split the noodles between four bowls, divide the eggs and avocado between them, top with sprouts, penuts and more sauce. Enjoy.