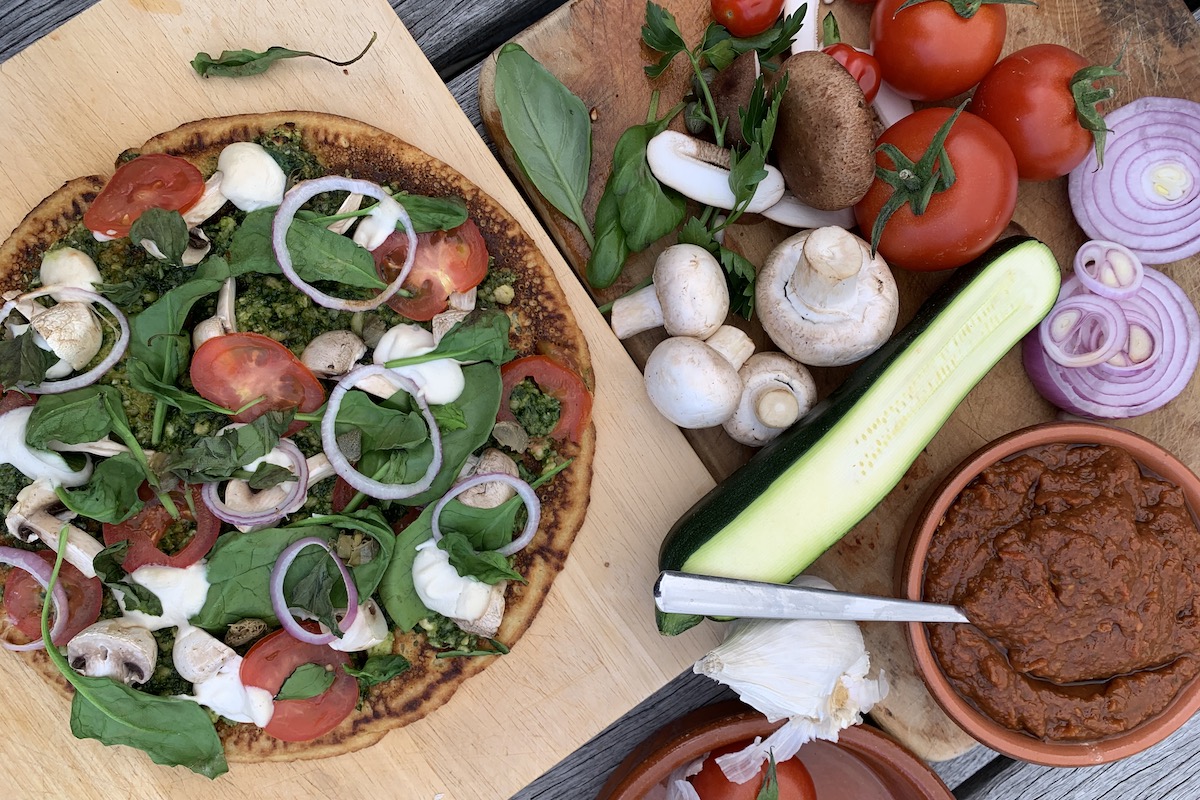 Spring Socca Pizza
Published on:
November 22 2020
These Socca Bread Pizzas are surprisingly light and super easy to make. It's the gluten free chickpea flour and fermentation with coconut yoghurt or apple cider vinegar which makes all the difference. Chickpea flour is a wonderful ingredient: it's full of fibre and folate, low GI and packed with protein. You can mix and match the toppings and sauces with your fussy youngsters; skip the pineapple and sneak in some veges. We've done a pizza rossa with fresh tomato sauce and the toppings below but you can use pesto to make a pizza verde (green pizza), this will be scrumptious if you top with baby spinach. There is also a nut cheese included which is divinely soft and creamy with the blast of warmth from the oven, but you can substitute this for what's on hand.
For the Socca Base (make the night before or morning of)
1 Cup Besan (Chickpea Flour)
1 Cup Water
1 Garlic Clove, peeled and very finely chopped
1 Tbsp Chopped Rosemary, or Thyme
1 Tbsp Olive Oil
1 Tbsp Coconut Yoghurt, or 1 Tsp Apple Cider Vinegar, optional
1 Dash Olive Oil, or Coconut Oil, for cooking
For the Tomato Sauce (makes 1 cup)
¼ Cup Sundried Tomatoes, soaked for 2 hours
½ Cup Tomatoes, fresh, chopped; you can use Cherry Tomatoes instead if desired
½ Red Capsicum, deseeded
¾ Tbsp Olive Oil, cold pressed, plus extra to drizzle
½ Tsp Fresh Oregano
¼ Small Handful Fresh Basil
¼ Clove Garlic
¼ Chilli
1 Pitted Date
1 Tsp Apple Cider Vinegar
For a quick Nut Cheese
1¾ Cups Cashews, soaked 2-4 hours
1 Cup + 2 Tbsp Filtered Water
2¾ Tbsp Lemon Juice
1½ Tbsp Nutritional Yeast
¾ Tsp Sea Salt
For the Toppings
1 Zucchini, finely mandolined into ribbons
1 Small Handful Mushrooms, sliced or chopped to your preference – we've used Shitake and Mini Buttons
½ Red Onion, finely sliced
¼ Cup Olives, pitted and halved
½ Cup Cherry Tomatoes, sliced or whole
3 Cloves Garlic, peeled and finely sliced
1 Small Handful Basil, freshly torn
½ Cup Nut Cheese
½ Fresh Lemon, for squeezing before you serve
Method for Tomato Sauce
Soak the sundried tomatoes in water for at least 2 hours or until soft, rinse well. Place the tomatoes and capsicum in the blender first (they have a high water content and once they start to break down will provide the liquid to help everything else amalgamate).
Add the rest of tomato sauce recipe ingredients and blend until smooth. Add salt and pepper to taste: sundried tomatoes are often very salty already so the amount of salt you add will depend on that. The sauce will keep in the refrigerator for up to 1 week.
Method for Nut Cheese
To prepare the cashew cheese, drain soaked cashews and rinse thoroughly.
Place in a food processor with the water, lemon juice, nutritional yeast and salt, mixing until smooth. Add additional sea salt and cracked pepper to taste. The cheese will keep in the refrigerator for 5−6 days. You could use a blender for a smoother cheese, but this may require more water to get it moving (this will create a runnier cheese that is not ideal on the pizza).
Method for Pizza
Preheat oven to 240C bake. Place all the socca ingredients in a bowl and mix until you have a smooth batter. Season with a few pinches of salt and cover and leave overnight, or for a minimum of two hours, to ferment. You can then use straight away or leave it in the fridge until dinner time. The batter is reasonably thick, a little thicker than a pancake mixture.
Heat 2 tablespoons of oil in a standard cast iron frying pan to a medium/high heat, then pour in a third of the batter and cook for around 5 minutes until it forms a crisp golden crust. Drizzle with a little more oil and flip, cook for a further 2 minutes until cooked through.
Remove from the pan and top generously with the tomato sauce, followed by the rest of the ingredients, in the order listed. After topping, finish your socca flatbreads in the oven for a few minutes for the full pizza experience. Just before serving squeeze a few drops of lemon over the zucchini, and garnish with pepper; it will the make the flavours really pop.
-----
Little bird organics is the creation of partners Megan and Jeremy. Megan is the chef and creator of the little bird flavour and Jeremy, an award-winning architect and designer, is the brains behind the branding. Their goal is to shift existing paradigms around plant-based cuisine, and show people just how exciting, innovative and delicious organic wholefoods can be.