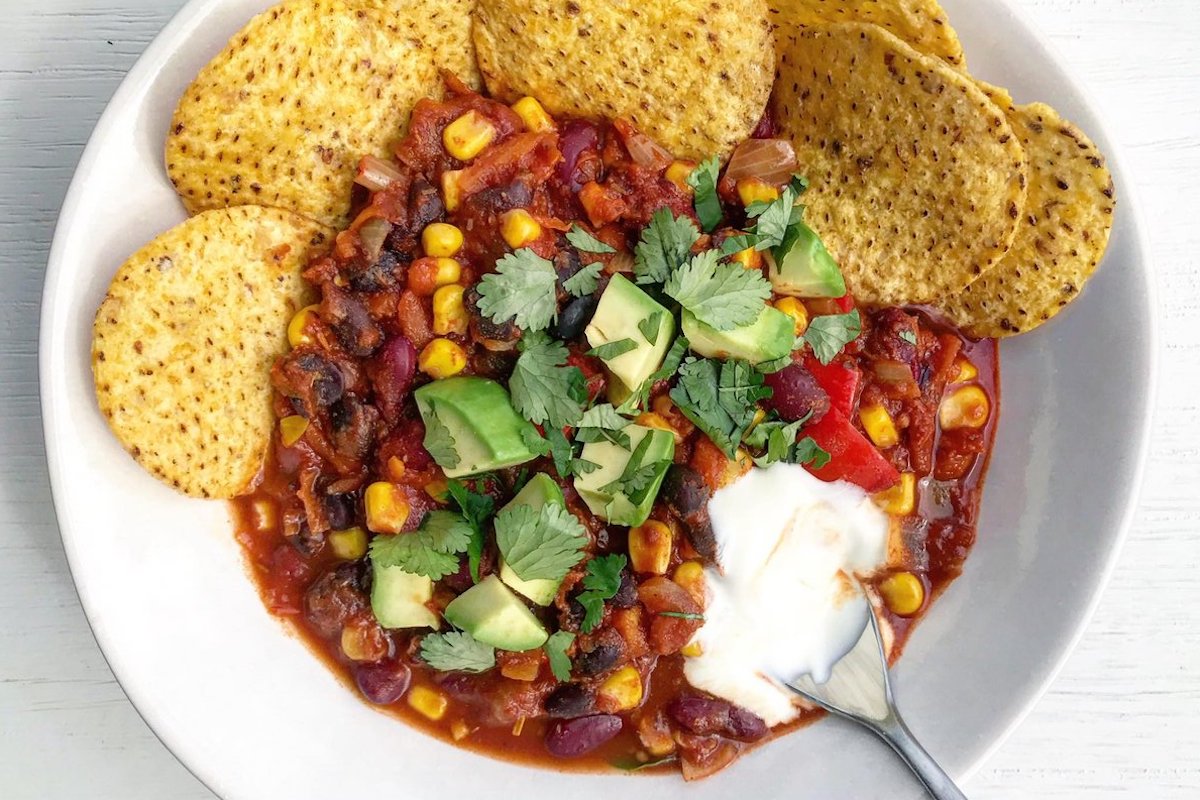 Plant-Based Chilli with Corn Chips
Published on:
February 12 2021
An easy and tasty plant-based one-pan dinner that'll feed a family, and with leftovers the next day! Great served with corn chips, rice, on toast or in a wrap. Serves 6-8.
INGREDIENTS
1 tbsp oil
1 brown onion
4 garlic cloves
1 1/2 tbsp paprika
1/2 tbsp ground cumin
1 1/2 tsp dried oregano
1 red capsicum/pepper
1 carrot
2x 400g tin diced tomatoes
1x 400g tin kidney beans
1x 400g tin black beans
1x 400g tin corn kernels
1 tsp salt, or to taste
Corn chips
METHOD
Prepare your veggies - peel onion and chop finely. Peel garlic and slice finely. Slice capsicum in half, remove inner seeds and green stalk and then dice red flesh into small squares. Grate carrot.
Heat oil over a medium-low heat in a large deep fry-pan. Sauté onions and garlic for five minutes or until onions are soft. Add chilli seasoning, cumin and dried oregano, and sauté for one minute or until fragrant.
Add capsicum and carrot, mix well and sauté for a few minutes.
Add tins of tomatoes and mix well. Open tins of beans and corn and drain any excess liquid, before giving them a good rinse in a sieve under running water. Add to fry-pan, along with the salt and mix well. Now let the magic happen! Cover and let simmer for 20 minutes to soften veggies and develop the flavour. Mix occasionally throughout the 20 minutes.
Place corn chips on a big platter. Pile over vegetarian chilli or serve alongside. Enjoy!


ADDITIONS
Serve with homemade salsa and smashed avocado
-----
Danijela Unkovich is a nutritionist and blogger at Nourish & Tempt, where she shares recipe ideas and wellness inspiration.