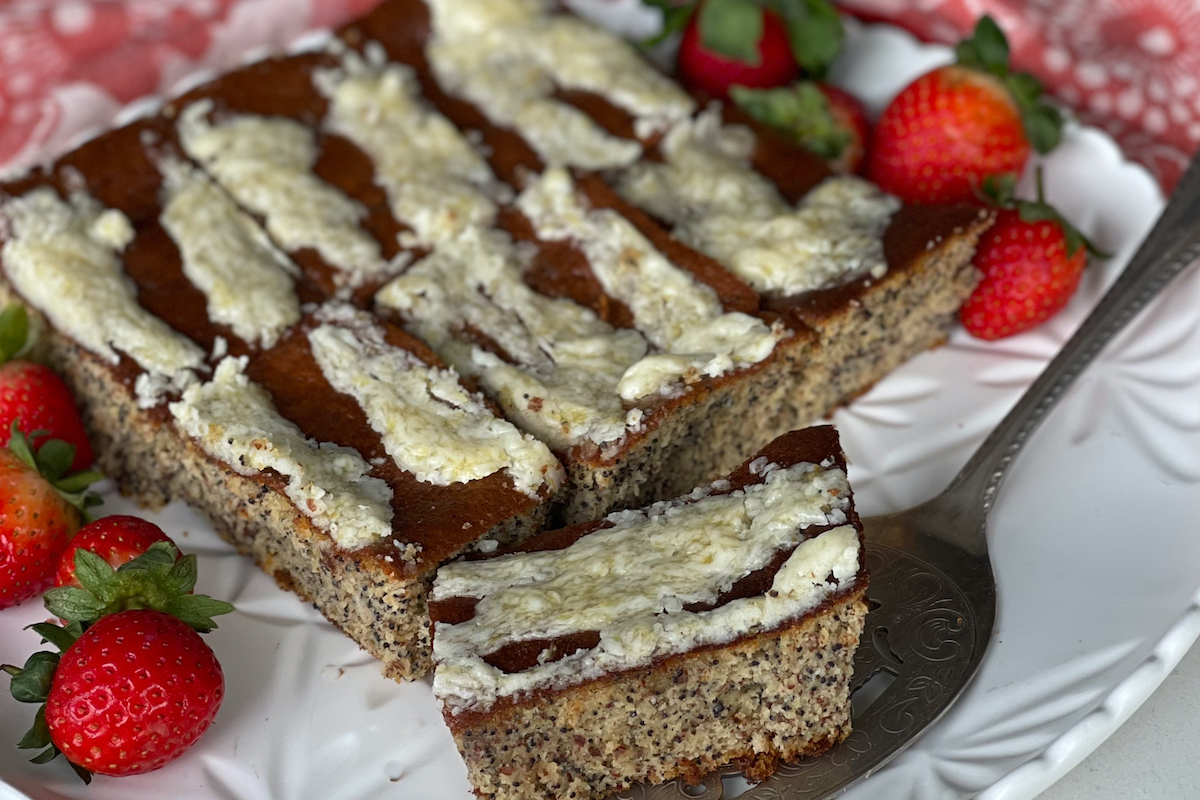 Lemon Poppyseed Bar
Published on:
December 02 2021
This delicious gluten-free cake is super simple to make and is sure to become a family favourite. I love the flavour of lemons and nutrient dense poppy seeds. This bar will satisfy your sweet tooth without the sugar high.
Ingredients
170 g almond meal (1¾ cup loosely packed)
170 g rice malt syrup, honey or maple syrup (½ cup)
4 free-range or organic egg/s (large) at room temperature and carefully separated
1 lemon - zest of the whole lemon, juice of half
2 tbsp poppy seeds
½ tsp bicarbonate of soda
½ tsp sea salt
1 tsp vanilla -powder, extract or essence
½ tsp cream of tartar
Lemon drizzle
2 tbsp coconut oil, softened
2 tbsp raw honey
1 tbsp fresh lemon juice
Zest of half a lemon
Method
Preheat your oven to 180℃/350℉ (fan-forced). Line a 23cm x 30cm slice tin with non-stick baking paper.
In a food processor mix the almond meal, sweetener of choice, egg yolks, lemon zest and juice of half, poppy seeds, bicarbonate of soda, sea salt, and vanilla until well combined (Thermomix 30 seconds, speed 4). Set aside in a large mixing bowl.
In a clean and a completely dry food processor or bowl, whisk your egg whites. You are wanting to form strong peaks (like for a meringue). I generally do this by whisking it until it becomes foamy (Thermomix butterfly inserted, 20 seconds, speed 3). Then add the cream of tartar and mix until peaks form (Thermomix butterfly inserted, 1½ minutes approx., speed 4). Stop beating as soon as strong white peaks form.
Gently fold half of the egg white into the almond batter. Fold in the remaining egg white and pop in the oven for 20-25 minutes or until cooked in the middle.
Allow it to cool a little before placing it on a wire rack to cool.
Personally, I'm generally a throw it all in kind of baker. But by separating the egg white, you will achieve a much lighter crumb. So I believe it is worth a little extra effort to beat the egg white. If you do have an egg white disaster or can't be bothered, you will just have a heavier, but still delicious cake.
To make the drizzle, mix the ingredients together in a small bowl and drizzle over the cake. If the ingredients separate or curdle, place the bowl over hot water to heat a little and whisk to combine.
-----
Georgia Harding is a Naturopath (20+ yrs exp.) author, mother and passionate health educator. On her website 'Well Nourished' she shares fad-free health advice and intolerance/allergy friendly recipes to inspire people to live happy, healthy lives and create delicious food memories.
Georgia is committed to supporting the health of this generation and especially loves to help parents feed their children 'well'. She endeavours to simplify nutrition and make cooking nourishing meals achievable for everyone.