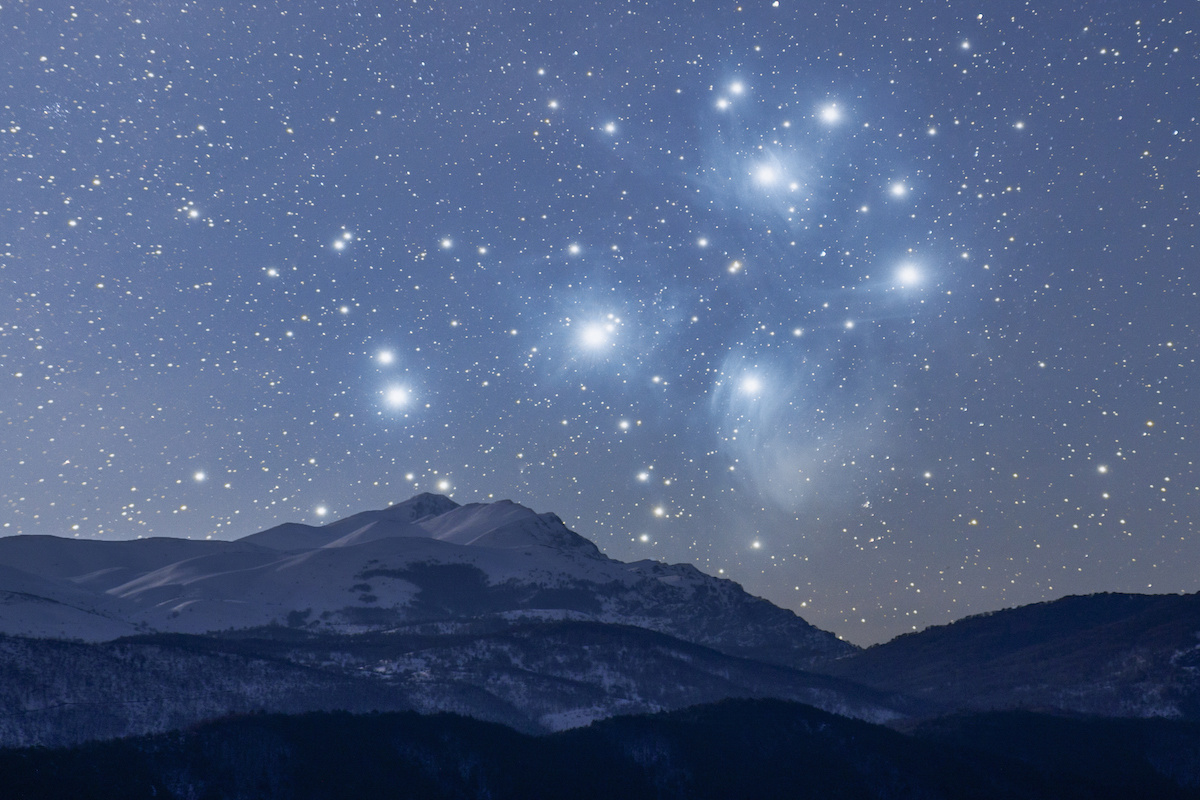 Celebrating Matariki 2020
Published on:
July 10 2020
As Matariki draws to a close for 2020, we're reflecting on what it means for us and how we can use this time of new beginnings to light a spark for the year to come.
Astronomy was traditionally interwoven into every facet of Māori life. Knowledge of the stars (tātai arorangi) was important for daily life, from fishing and cultivating crops, to navigating, keeping time and tracking the changing seasons. Celestial bodies were given Māori names and their stories were woven into history and mythology.
Matariki is the Māori name for Pleiades, a cluster of nine stars that can be seen all over the world. The rise of this star cluster in June and July over Aotearoa marks the beginning of the Māori New Year. Matariki translates as 'eyes of god' (mata ariki) or 'little eyes' (mata riki).
Historically, Matariki brought communities together to reflect on the year that had just passed and make plans for the year to come. This was a time of celebration with waiata (songs); sharing kai (food), korero (talking). Critically, it also brought people together during the winter to share resources for the benefit of everyone.
In the 21st century, people in Aotearoa have begun to rediscover the magic of Matariki, and festivals and feasts now happen all over the country. Today, all Kiwis have the chance to celebrate our unique places, spend time and share kai (food) with each other, and show respect for our whenua (the land we live on).
Here are a few ideas for bringing the spirit of Matariki into your year.
Cook with traditional native and Māori ingredients
Celebrate by cooking or sharing a feast with friends and whanau. Even better if you can incorporate truly local ingredients. Traditional Māori veges to look out for are Taewa (Māori potatoes), Kūmara, Kamo Kamo (a type of squash, like a cross between marrow and pumpkin), Taro, Puha (a leafy green) and Uwhi (yam). You may be able to find these at your local speciality grocer or farmer's market. Or try experimenting with native plants like pikopiko (fern tips), kawakawa or horopito.
Explore Aotearoa's beautiful backyard
Make Matariki a time to enjoy and care for the natural world. Plant a vege garden in anticipation of spring – if you don't have the space yourself, you could volunteer at a community garden or help an elderly relative with digging. You might want to rug up and find a new walk in nature, or get a few neighbours together and look after your patch by picking up rubbish.
Learn as you teach
One traditional aspect of Matariki was that tribal customs and knowledge were passed from the elders to younger generations. Even if you don't have kids yourself, could bring this into your life by teaching a favourite recipe or skill. You may also want to take advantage of this period of hibernation to teach yourself. During this winter, the ecostore team have been learning to knit, expanding their recipe repertoire, practising the guitar and working on their yoga practice.
Set some fresh goals
If you find the New Year's resolution a bit too much pressure, what about a mid-year promise to yourself? Just like nature lies still at this time of year in preparation for new growth, take advantage of this period of quiet and contemplation to set new goals and build healthy new habits that stick.
Share what you have
Winter can be an extremely challenging time for people who are struggling. Matariki is a good time to give what we have and help those less fortunate. For you, that may mean restocking your local community pantry, inviting a lonely neighbour round for dinner, or volunteering with an organisation that cares for people in desperate need. The ecostore team is proud to support the Auckland City Mission, but you're sure to find a foodbank or shelter in your community that would really appreciate your help or donation.
-----