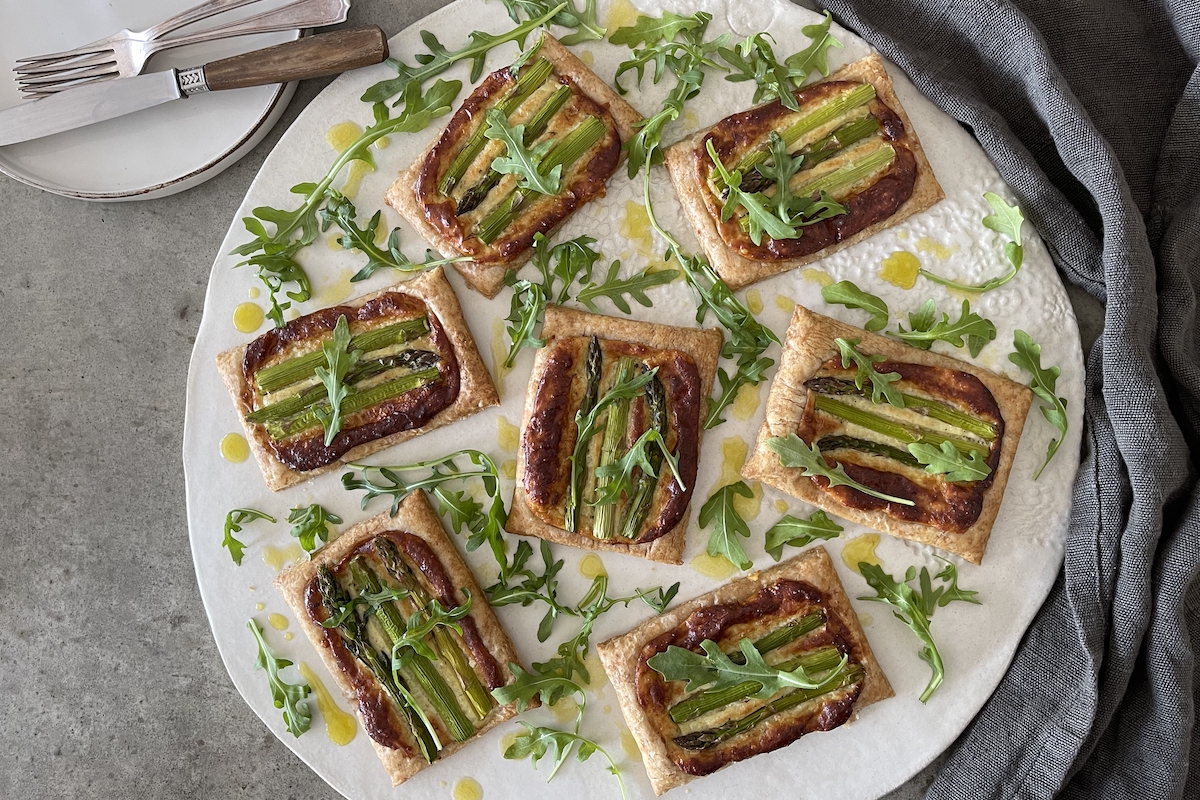 Asparagus Tart with a Rocket Salad
Published on:
September 08 2021
This delicious tart is super simple to make and a delicious light meal that's perfect for spring. These are divine hot out of the oven or at room temperature for a fancy picnic.
Tip - choose nice young (thin spears) which are more tender than thicker spears.
Asparagus Tart
150g parmesan or gruyere cheese - finely grated
1 clove garlic, minced
1 tbsp fresh thyme leaves
150g goat cheese
1 egg
1 lemon - zest
1 tsp dijon mustard
Black pepper, to taste
1 bunch asparagus, woody ends trimmed
1 sheet all-butter puff pastry (approx. 27 x 36cm)
Rocket Salad
60g rocket
2 tbsp lemon juice
4 tbsp olive oil
1 tsp honey
Sea salt and black pepper, to taste
Method
Preheat a fan-forced oven to 200℃.
In a blender or food processor, grate the parmesan cheese. Add the garlic, thyme, goat cheese, egg, lemon zest, mustard and pepper and blend to form a paste.
Place the puff pastry on a tray lined with baking paper.
Divide into eight tarts. Place a heaped tablespoon of the cheesy paste in the middle of each piece of pastry and spread leaving a centimeter around the edge.
Top with halved asparagus spears and bake for 10 minutes. Reduce the heat to 180℃ and bake for a further 10 minutes.
Mix the lemon juice, olive oil, honey and seasoning together and toss through the rocket.
Serve the tarts with the rocket salad.
-----
Georgia Harding is a Naturopath (20+ yrs exp.) author, mother and passionate health educator. On her website 'Well Nourished' she shares fad-free health advice and intolerance/allergy friendly recipes to inspire people to live happy, healthy lives and create delicious food memories.
Georgia is committed to supporting the health of this generation and especially loves to help parents feed their children 'well'. She endeavours to simplify nutrition and make cooking nourishing meals achievable for everyone.