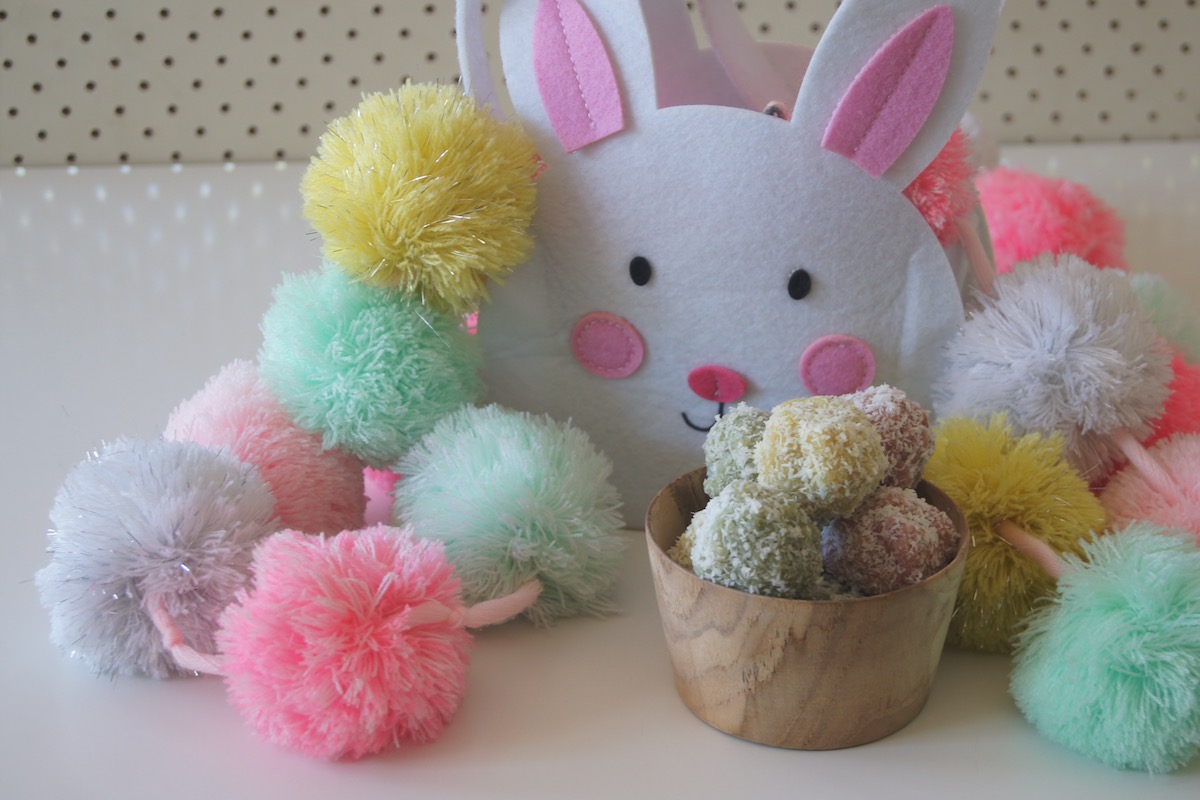 A healthier Easter treat for kids
Published on:
April 06 2019
While not wanting to be an Easter Grinch, it is nice to have some treats that aren't loaded with sugar or highly processed ingredients at this time of year. These delicious bliss balls not only taste amazing but they will also fill the kids up as they contain healthy fats from coconut and raw cacao butter - leaving less room for the sugary treats!
If you aren't familiar with raw cacao butter it is the edible fat extracted from the raw cacao bean and can be found at most whole food stores. Cacao butter gives this Easter treat a lovely subtle white chocolate taste to it. Cacao butter is a key ingredient in white chocolate!
These Easter bliss balls are easy to make and can be made ahead and kept in the freezer / fridge until needed. Being vegan and gluten free they are also a great treat when you need to cater for food intolerances and allergies.
Core ingredients:
3 cups coconut flakes
3 ½ cups almonds flour
⅓ cup raw cacao butter (melted)
⅓ cup coconut oil (melted)
¼ cup maple syrup
½ tsp Himalayan pink sea salt
3 tsp vanilla extract
Colouring ingredients:
¼ tsp greens powder
¼ tsp beetroot powder
¼ tsp turmeric latte powder
1.5 cups desiccated coconut
Method:
Add the core ingredients to the food processor and pulse for a minute. Scrape down the sides and pulse again for another minute. Continue with this process until the mixture has formed a dough like consistency. You can test if the mixture is ready by trying to form a ball. You should be able to squeeze the mixture easily to form a ball that stays together well. If you find the mixture too runny, add extra almond flour and process again.
Separate the mixture into three small bowls and add desiccated coconut to another.
Add one ¼ tsp of the colouring ingredients into each bowl, so you can make three different colour bliss balls. Mix the colouring in with a fork and shape the mixture into one large ball.
Shape the large dough ball into a thick sausage type shape and break off same size chunks to roll into balls, then roll the balls into the desiccated coconut, squeezing them firmly to attach coconut and keep them in a ball shape.
Place the bliss balls in an airtight container in the fridge and let set for 2 hours.
Note:
As these Easter Bliss Balls have both coconut oil and cacao butter, they do need to be stored in the fridge or freezer in an airtight container. If storing in the freezer, simply remove from freezer 30 minutes before serving and place them in the fridge.
-----
Nicole Avery is a Melbourne mum to five beautiful kids aged 8 to 18. She is the master organiser behind the popular parenting blog Planning With Kids and the author of a book by the same name, where she shares tips and tricks for organising the chaos of family life.