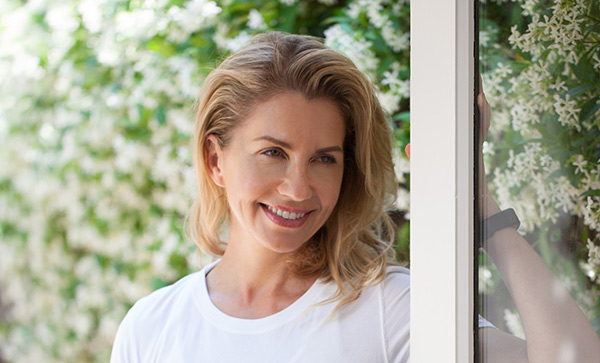 Wellness Warrior: Teresa Cutter, The Healthy Chef
Published on:
December 08 2016
Teresa Cutter's healthy food brand stemmed from traditional chef training, fitness and nutrition expertise, and inspiration from her uncle and aunt. Find out why she's such a big believer in keeping things simple, her commitment to organics - and discover a couple of her delicious recipes.
Tell us about your training as a chef, and in nutrition and personal training.
I was classically trained as a traditional French chef and mainly worked in 5 star hotels, where I was fortunate to work with some extremely talented pastry chefs. I completed my nutrition studies at Deakin University because I wanted to gain a more rounded approach to health, nutrition and cooking. Today I combine what I learnt at Deakin with the simplicity and freshness of the fuss-free cooking my uncle and aunt brought me up with. I completed my personal training at the Fitness Institute of Australia (FIA).
What was the inspiration behind starting your own café and what was the vision for it?
When I started my healthy café, The Healthy Chef, healthy baking was the heart and soul - people would gather, socialise and be happy. I guess the inspiration behind it, like most of what I do at The Healthy Chef, is my Polish aunt's cooking. I grew up with her meals, which were made from pure honest wholefoods, and I'm passionate about sharing my fuss-free yet delicious and healthy way of cooking and baking, just like she did. I also love seeing the excitement in people's faces when they enjoy my food.
How did that evolve into the brand that Healthy Chef is today?
I didn't want to limit my healthy food to the people who would just come to my café - I wanted to create functional food products made from organic and natural wholefoods so that anyone can nourish their body and promote health and wellbeing. We have been using premium organic ingredients in our range, as I believe it's an important step to show our commitment to quality, and the production of natural, honest and pure food. Similarly, my cookbooks offer plenty of wholefood recipes that are designed to boost optimum health and wellbeing.
What are your favourite go-to foods or dishes for everyday wellness?
I love a smoothie in the morning. It's quick and easy to make and I pack it with all the nutrients to get me going for the day. One of my favourites is the Body Shaping Smoothie. It can also work as a meal replacement when you're super busy and on the go.
For a healthy dish during the week, you can't beat a nourishing salad, such as my Beauty Boosting Salad.
What do you do to care for yourself and ensure your lifestyle is balanced amid all the busyness?
Chronic stress can keep cortisol levels in the blood elevated for longer, which in turn can affect metabolism, suppress thyroid function and increase abdominal fat. If you simply have no time during the day to take time out, ensure you get enough down time before you sleep.
If you have an anxious mind like me, or find it hard to just switch off, I find a warm bath with lavender oil or a cup of Healthy Chef Naked Chocolat works well to promote sleep. This drink is comforting, nourishing and full of magnesium, which helps calm the nervous system. Combined with homemade cashew milk, you get tryptophan, the amino acid which helps to make serotonin - the feel good hormone that promotes feelings of wellbeing and happiness.
What are your most important pieces of advice for people who want to make their lifestyle healthier but aren't sure where to start?
Nutrition isn't as complicated as it is often made out to be. I get a lot of emails from people who are so confused. There's a sense of 'food anxiety' amongst many people who are trying their best to do the right thing. Eat wholefoods and customise your own diet based on your unique needs. I look back at my great aunt and uncle…they had it right…fresh fruit, vegetables and some protein. Ditch the processed stuff and stick to whole foods and you are on the right track. Don't complicate it, keep it simple and make it yourself.