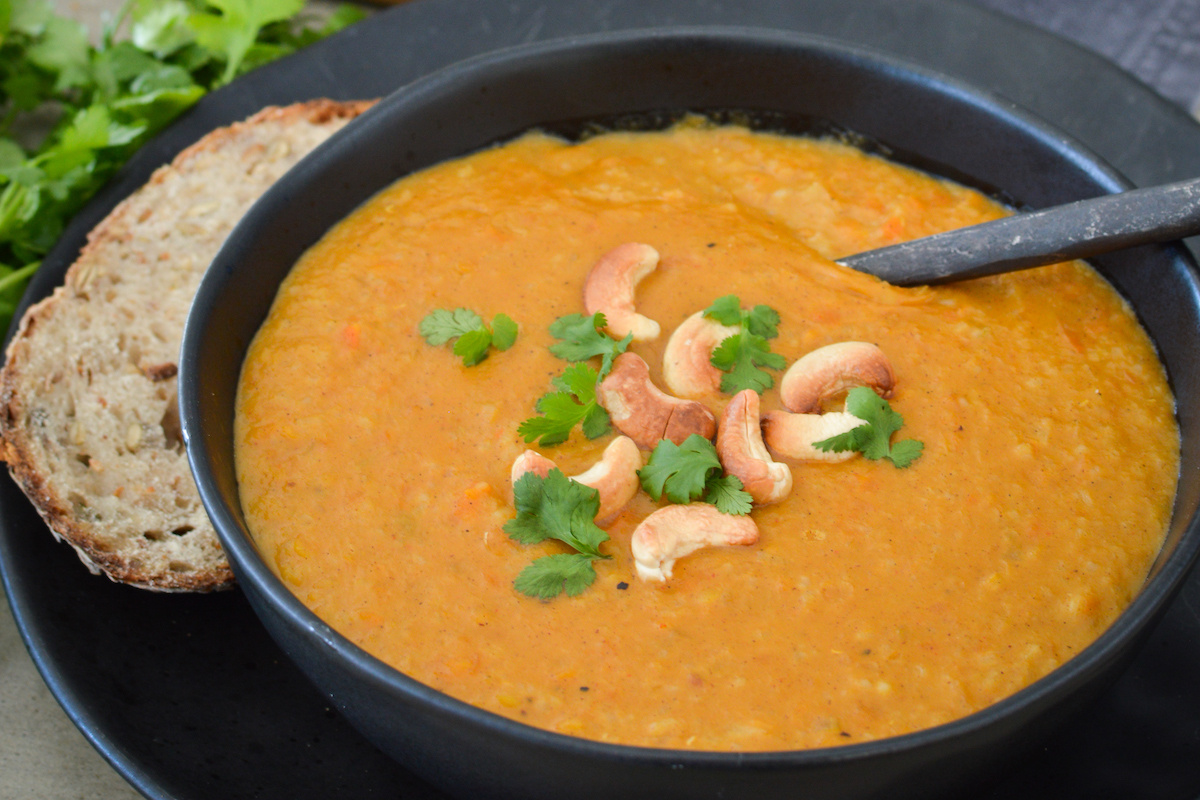 Immunity Boosting Indian Mulligatawny Soup
Published on:
May 28 2020
This immune supportive one pot meal is really delicious and super easy to make. Don't be put off by the long list of ingredients, eating a wide variety of plant based foods and spices is essential for ensuring your gut microbiome is healthy ensuring a robust immune system. Enjoy!
Serves 4
Prep 15 mins
Cook 35 mins
Ingredients
50 g butter (or ghee)
5cm ginger root, finely grated
3 cloves garlic, minced
1 onion, diced
2 stems celery, finely diced
1 tsp curry powder
1 tsp ground cumin
1tsp ground cinnamon
½ tsp sweet paprika
½ tsp ground cardamom
2 apples, peeled & grated
1 large carrot, grated
1 small sweet potato, peeled and grated
1 cup coconut cream
3 cups broth or stock
¼ cup basmati rice
¼ cup red lentils
1 tbsp tomato paste
1 tbsp coconut sugar
1 tbsp sea salt
Black pepper, to taste
1 lemon, juice
½ bunch coriander leaves, to serve
¼ cup cashew nuts, toasted to serve (optional)
Method
In a large pot, melt the butter or ghee over a medium heat.
Add the ginger root, garlic, onion and celery and sauté for 3-4 minutes.
Add the spices and sauté for 2 minutes stirring until they smell aromatic.
Now add the apples, carrot, sweet potato, coconut cream, broth or stock, rice, lentils, tomato paste, coconut sugar and seasoning.
Rapidly simmer for about 30 minutes or until the lentils and rice have softened.
Once cooked, stir in the lemon juice.
Serve with the coriander leaves and cashew nuts.
Can be made ahead of time and gently reheated to serve.
Leftovers can be stored in an airtight container in the fridge or frozen.
-----
Georgia Harding is a Naturopath (20+ yrs exp.) author, mother and passionate health educator. On her website 'Well Nourished' she shares fad-free health advice and intolerance/allergy friendly recipes to inspire people to live happy, healthy lives and create delicious food memories.
Georgia is committed to supporting the health of this generation and especially loves to help parents feed their children 'well'. She endeavours to simplify nutrition and make cooking nourishing meals achievable for everyone.