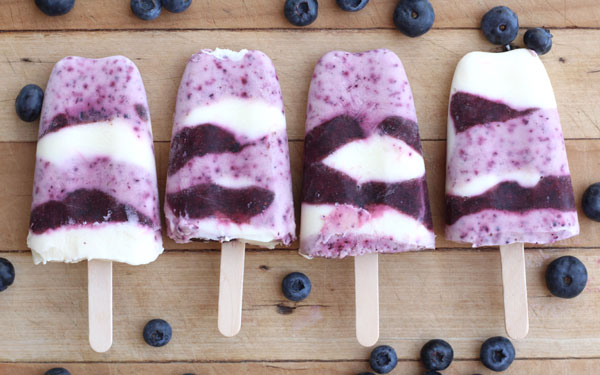 Danijela Unkovich's berry yoghurt pop recipe
Published on:
February 11 2017
With an abundance of fresh berries available to us in summer, these fruity blueberry yoghurt pops are the perfect refresher on a hot day. Not only are blueberries delicious, but they're also a wonderfully nutritious - they contain one of the highest sources of antioxidants, which are important in protecting our body against free-radical damage. For a dairy-free version, simply use coconut yoghurt instead.
Blueberry yoghurt pops
Makes 6
Ingredients:
375g plain organic yoghurt (or coconut yoghurt for a dairy-free option)
2 tbsp runny honey
1 cup blueberries
Equipment:
6 ice block moulds, 6 wooden ice block sticks, 3 bowls, 1 food processor/blender, 1 tablespoon
Method:
Evenly divide the yoghurt between two bowls. Add 1 tbsp of honey into each bowl and mix well.
Blend blueberries until smooth.
Add half of the pureed blueberries to one of the yoghurts and mix through. Pour the rest of the blueberry puree into a separate bowl.
Now for the fun part - spoon alternating layers of the three mixtures into ice block moulds until almost filled to the top. Insert a wooden ice block stick into each and then place in the freezer until solid.
Enjoy!