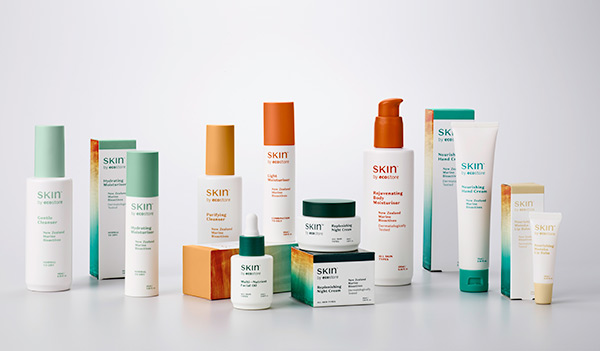 Celebrating the launch of SKIN by ecostore
Published on:
April 06 2017
We're really excited to launch our new SKIN by ecostore range, which is packed with nutrient-rich bioactives to help hydrate, replenish and regenerate skin.
We celebrated the range launch with an event in Auckland, attended by our ambassador, nutritionist Daniejla Unkovich from Healthy Always, as well as actor Ngahuia Piripi and fashion designer Georgia Currie, whose faces you might see alongside stuntwoman Zoe Bell on SKIN by ecostore posters around the central city.
Dermatologically tested, we crafted the range using bioactives sourced from around the country, including marine extracts, grapeseed extract and blackcurrant oil. Our senior brand manager Tracy Leach says the marine extract is a key ingredient because it's been shown to improve skin elasticity and regeneration.
And she adds that it's the high UV levels found in the Marlborough region that result in grapes and blackcurrants with really high antioxidant levels. In fact, the antioxidant levels found in the grapeseed extract we use in the range are 50 times stronger than vitamin E and 20 times stronger than vitamin C. As well, the blackcurrants are high in the essential fatty acids omega 3, 6 and 9.
SKIN by ecostore also uses New Zealand harakeke (native flax), sustainably harvested north of Auckland and known for its moisturising and anti-inflammatory properties.
We've catered for different skin types with this range, from oily to combination skin, as well as products for normal to dry skin:
Normal to dry skin - Hydrating Moisturiser, Gentle Cleanser
Combination to oily skin - Purifying Cleanser, Light Moisturiser
All skin types - Multi-nutrient Facial Oil, Replenishing Night Cream
Body range - Nourishing Manuka Lip Balm, Nourishing Hand Cream, Rejuvenating Body Moisturiser
Danijela says she's loved using SKIN by ecostore. "When I put something in or on my body I want it to be good for both me and the environment, with ingredients I can trust. I adore ecostore's transparency with ingredients, and don't have doubts over what they are or where they've come from. I feel I can trust this range to really work."
Keep an eye out for the range in your supermarket, and check out the website to find out more. You can also follow SKIN by ecostore on Facebook and Instagram.