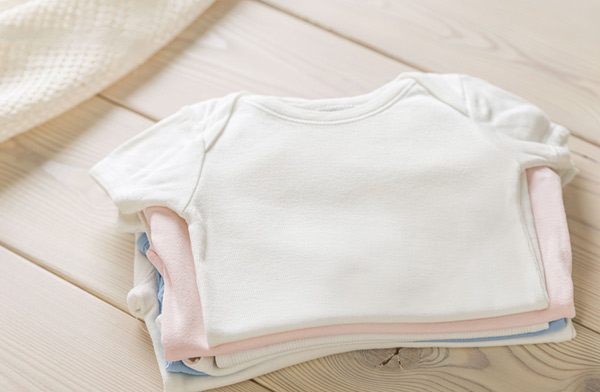 Caring for baby clothes in the laundry
Published on:
October 18 2017
Parents experience that newborn stage with seemingly endless amounts of laundry - and thanks to baby that laundry seems to have a range of interesting stains!
We want to give our little ones' delicate skin the best care but we also need to combat those tough stains. That can be a challenging balance, but we hope the tips we've compiled will make it easier to achieve and help parents with their laundry product choices.
Take special care
To make baby clothes and linens last as long as possible, try not to mix them in loads with harsher fabrics or large volumes of laundry too often. Smaller, more delicate items can benefit from being washed on their own in the machine, or handwashed as needed.
Laundry first, wear second
It's a good idea to give baby clothes and linens a thorough wash before they're first used to takeaway residues of chemicals introduced during the manufacturing process.
Pick a safer product
Although you need powerful cleaning, you also need to protect your little one's delicate skin, which is thinner than an adult's. We pick plant and mineral-based ingredients for our laundry powder and avoid chemicals like synthetic fragrance and optical whiteners that might irritate a baby's skin.
Read the instructions
This is important advice for all laundry care, because clothing manufacturers and laundry product companies have specific instructions to keep garments in the best quality. Have a look at the label on any baby clothes you buy to find out how to machine or hand wash them, and read the use instructions on the laundry detergent label for how much to use.
Combat stains
Try treating stains caused by nappy accidents, or from milk and food, before putting them in the wash or in conjunction with the wash cycle. We recommend our Laundry Soaker and Stain Remover for pre-soaking or placing in the washing machine along with laundry powder or liquid.
Stick to the tried and true
If you start washing your newborn's items with particular laundry care, it's easier not to change, especially if it's worked well. If you switch between brands or products with different ingredients, it's harder to trace the source of any skin irritation your baby might have.
We'd love to hear your baby laundry advice, so do leave us a comment with your tips!
Check out ecostore's ultra sensitive (fragrance free) laundry care online.