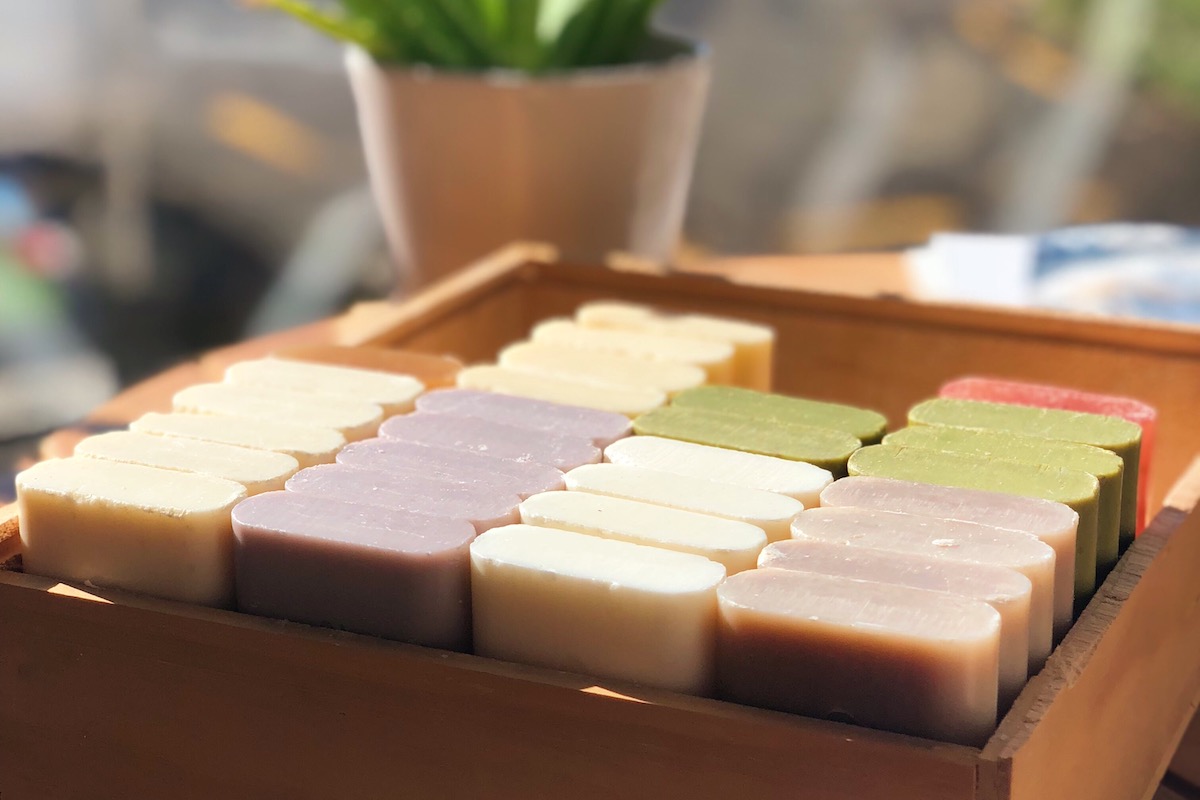 Beyond Plastic Free July
Published on:
July 28 2020
Here at The New Joneses, we have never successfully eliminated 'all the plastic.' So don't stress if you can't go completely plastic-free either. This Plastic Free July, how about starting by eliminating single use plastics? Then, over time, you can work on avoiding others wherever you can. We're super aware that Covid-19 is making it a little more challenging, but do your best, and remember, every bit counts.
The Kitchen
To create the biggest positive impact, it makes sense to start by looking at what we eat. We avoid food in plastic all the time, not just during #plasticfreejuly. This helps us eat fresher and healthier, while avoiding processed and packaged foods.
We buy tonnes of market fresh fruits and veggies loose, never packaged – which changes where we shop and what we buy. If what we want is packaged, we choose something else. By making this one change, we increase demand for unpackaged foods, while reducing demand for packaged and processed foods. So we all win.
We used to obsess over mineral water. Now we don't buy it, as it comes in plastic (or an expensive glass bottle that's been flown halfway across the world). Now, on the rare occasion we have it, it's a treat that we completely appreciate.
We avoid buying chewing gum (yup, it's plastic) and takeaway anything. That sushi package you use for a hot minute before scoffing that delicious California Roll will still be on earth long after you're gone. By swapping 'takeaway for sit down and savour, enjoying a coffee or meal out becomes more of a treat and an experience.
5 EASY WINS or "always nos"
Plastic straws, take-away anything, coffee cups, plastic bags
Plastic bottled anything, (coke, water, mineral water etc)
Clingfilm (instead use lidded reusable containers or beeswax wraps)
Frozen foods (always in packaging) we buy fresh fruits/veggies and freeze them
Cotton buds/wet-ones/hand wipes etc
7 SIMPLE SWAPS
Anything packaged for anything fresh
Milk in plastic for milk in cardboard/glass
Cleaners in plastic for cleaners in cardboard (laundry powder etc)
Disposable razors for stainless steel safety razor
Tampons/pads/panty liners for period and leak proof underwear
Baking soda, lemons and white vinegar for cleaning
Liquid soap in plastic bottles for soap bars
The Bathroom
Grandma (a very wise woman) said "If you can't eat it, don't put it on your body." What you put on your skin ends up in your bloodstream.
We have slowly eliminated all unnecessary cleaning and beauty products, and started looking in the fridge and the pantry for our skincare and haircare.
Try honey as a skin cleanser, and cacao powder as a plastic-free (and chemical free) bronzer. Olive oil is a deeply nourishing moisturiser (and you only need a tiny bit), while apple cider vinegar tones oily and acne-prone skin, thanks to its antibacterial properties. Ground coffee beans make an excellent exfoliator, mixed with a little oil.
Out & About
During Covid-19, we're hardly getting out, but consider these ideas for future outings, parties and festivals.
BYO refillable water bottles/coffee cups
Pack your own snacks. Most things 'out' come in packaging
Choose catered food based on packaging
Support food vendors using compostable/bamboo takeaway containers
Enjoy your coffee as 'stay' not 'takeaway' (or bring your reusable cup, natch!)
Kids' parties and events are a great opportunity to inspire others and encourage them to follow in your plastic-free footsteps. Here are some easy little swaps for little partygoers.
Always pick bubbles over balloons
Swap wrapping paper for newspaper or reusable fabric
Make cards, not bought ones which often come in plastic wrap
Switch disposable party plates, plastic cups and plastic cutlery, for reusable crockery, glassware and napkins. They look better, and can be borrowed, hired or bought cheaply at op-shops
Have a 'second hand gift' theme. Kids learn to share, by gifting something of their own. Secondhand things don't come in plastic!
LEARN MORE
Watch Plastic Paradise on Netflix, or watch Lindsay Miles' inspiring Zero Waste TED Talk. You can also check out Buy Nothing New to learn more about other lighter living choices you can make.
-----
The New Joneses are all about sharing easy, everyday choices we can make for the health and happiness of people and planet – and helping Australians live a big life in a little footprint.